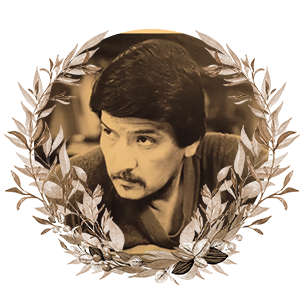 June 20, 1941 – April 29, 2021
Multi-talented and internationally awarded visual artist. A beloved and familiar figure in the Cultural Center of the Philippines.
ALLAN COSIO (June 20, 1941- April 29, 2021) was a self-taught artist of many disciplines. Starting out in theater in the 1960s, he began exhibiting his art works in 1975. He had solo exhibitions in the Avellana Art Gallery; Alliance Française De Manille; and Galleria Duemila, among others. Cosio also held exhibitions in galleries in the United States and Australia. He was also part of numerous group exhibitions, most notably in the Cultural Center of the Philippines, Metropolitan Museum of Manila, Ayala Museum, Museo Iloilo, GSIS Museum, and Archivo Gallery, as well as in Italy, Laos and Hungary. The very first exhibition that he was part of in the Cultural Center of the Philippines was "Five Contemporary Sculptors" in the Main Gallery in 1979. He was also one of the artists sent by the CCP to join the ASEAN artists exhibition in the Fukuoka Art Museum in Japan in 1980.
Cosio served as president of the Art Association of the Philippines from 1980-81, was part of the board of overseers of the ASEAN Institute of Art from 1982-84, and was executive officer of the Art Foundation of the Philippines from 1982-86. He was also director of the Society of Philippine Sculptors from 1996-98.
In 2018, he received the Ing Tala ning Kabiasnan at Kayapan ning Kapampangan award for the arts. He was given the Chevalier de L'ordre des Arts et des Lettres by the French Government in 2002, and the Patnubay sa Sining at Kalinangan for Painting and Sculpture from the City of Manila in 1992. He was also a recipient of grants from the British Council and the Pollock- Krasner Foundation in New York, as well as awards from the Baghdad International Art Festival in 1986 and the 1982 Art Association of the Philippines Art Competition.
His iconic sculpture "Tuwangan," made in 1977, is now part of the CCP Visual Arts Collection. He described the work when he donated it to the Museum of Philippine Art in 1981, saying, "This particular work, Tuwangan, illustrates my efforts to transcend technical requirements in order to express myself with complete freedom. This is the direction towards which I am developing my career. It is my nature. I am basically a minimalist. This attitude has brought me, early enough in my career, to realize that the medium and the technique the artist uses can inhibit his creative process…I am chasing my ideas. I have to control my curiosity for techniques. Most of these techniques take a lifetime to master. I don't have that much time."
Allan Cosio will be much-missed by all those who know him, fellow artists and art lovers, friends, and most especially by his wife, fellow artist Ivi Avellana-Cosio, and his two daughters Dana and Ina.