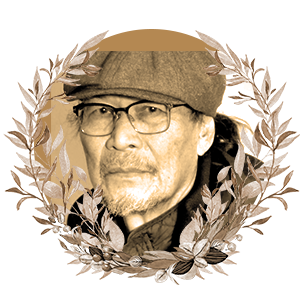 Visual Artist and Indigenous People's Rights Activist
June 12, 1950 – September 23, 2020
Asterio Valino Tecson was a painter, sculptor, photographer, and explorer of nature. He lived for almost a decade in Sagada, Mountain Province. There he saw how the rights of indigenous peoples in the Cordilleras were routinely violated. This contributed to shaping his sensibility and advocacy as an artist.
Frequently identified with the social realist movement, Tecson's works have been described by the Philippine Center in New York as "visually complex and intricate in details, at times hyperrealist, at times surrealist in tendency."
He would later create paintings of Cordilleras' indigenous warriors, which Filipino critic and art historian Alice Guillermo would observe as having been influenced by the works of Eduardo Masferré, the Father of Filipino Photography.
Tecson was best known for his 1989 work "Amerikanser" which boldly depicted social ills during the height of the campaign against the U.S. military bases in the Philippines.
This sentiment was also apparent in his 1990 exhibit called "End the Bases of Insecurity! Stop the Rape of Mother Earth!" which portrayed the struggles of indigenous peoples against militarization and their fight for their ancestral lands. Commissioned by the Cordillera Women's Education and displayed in the Center for the Study of Political Graphics and Resource Center, its aim was to "sustain the movement for the empowerment of Cordillera women to confront the economic and environmental crises."
Tecson also showed his love for and service to Sagada by holding art workshops for children. He even designed the official seal of the Sagada Municipality.
He was born in Calapan City, Oriental Mindoro, and while his art and explorations took him to the mountains and back over the course of decades, he would later return to the place of his birth. Tecson worked for the first time as a sculptor on a 15-feet fiberglass sculpture commissioned by the Provincial Government of Oriental Mindoro to commemorate the centenary of the Philippine Revolution.