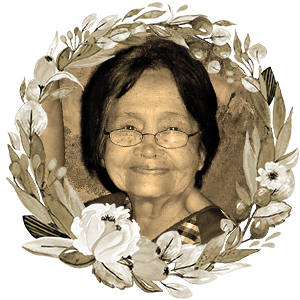 Sculptor, Terracotta Artist, Book Author, and Educator
December 19, 1932 – April 26, 2020
Born Maria Thybaida Rico Mendoza, Baidy was a sculptor, terracotta art educator, book author, and clay artist. She dedicated her life and career to creating and teaching clay sculpture, holding workshops under the Design Center of the Philippines and the Cultural Center of the Philippines.
After graduating with a BA Philosophy degree cum laude from the University of Santo Tomas (UST) in Manila, Mendoza took special studies at Grailville College in Loveland, Ohio, United States of America where she did sculptures in clay and paper, and enrolled in postgraduate studies in Vogelenzang, Netherlands.
The first presentation of Mendoza's works entitled Dalin Ya Peteg, Pangasinan for "true earth," was held in her Cubao, Quezon City studio. The 100 clay art pieces she exhibited came from the red clay and natural silica she found in the mountains and riverbeds of her hometown Labrador, Pangasinan.
Her first solo exhibition, The Birds of Happiness, interpreting the forms of the Ibong Adarna and sarimanok in terracotta, was held at the Manila Hilton Art Center. Her exhibit with stoneware artists Jaime and Anne de Guzman received positive reviews from critic Alfredo Roces.
Her international exhibitions include the Concorso Internazionale della Ceramica d'Arte Contemporanea in Italy and the Adelaide Art Festival at the Lombard Art Gallery in Australia.
May Tobias-Papa wrote: "Her pottery and sculptural pieces look like they have been around forever, that once they were actually mistaken for anthropological artifacts in a gallery abroad. Collectors began taking interest in her work, and they began snapping up her pieces…"
Mendoza also authored the book Clay People: Stories and Sketches (1997), a series of line drawings on recycled paper, hand-collated and hand-folded, written for the Philippine Independence Centennial.
With her group Luad (earth) and the women artists of KASIBULAN (Kababaihan sa Sining at Bagong Sibol na Kamalayan), she created and exhibited free forms of terracotta, including at the Department of Trade and Industry's National Art Fair in 2014, where she launched a self-published book entitled Labrador, an intimate and ethnographic discussion of her ancestry and hometown.
Her artistic influences were multicultural, stemming from her work and travels. She taught Western culture in Indonesia, where she studied Bahasa, the art of batik making, the wayang, and gamelan. She moved to Malaysia and Singapore, where she held workshops for youth and women and was in charge of the Philippine participation in the United Nations Festival and the Mabuhay Merdeka Orang Choklat Summit.
Mendoza also convened the Potters Guild through the Ceramic Council of the Philippines to cultivate the appreciation and use of clay as a medium for art.
She often emphasized the importance of creating art, saying: "God has put us in this world to add something to its beauty…To make something beautiful is to uplift… (In this way) we participate in the plan of creation."