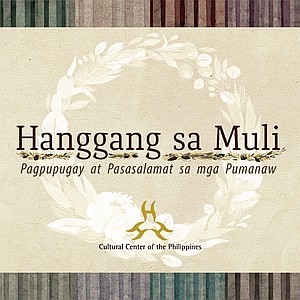 Film production designer, director, screenwriter, producer, graphic artist, photographer, and teacher
November 11, 1946 – May 8, 2019
Cesar Hernando (Cesar Asuzano Hernando) was a film production designer, director, screenwriter, producer, graphic artist, photographer, and teacher. He was born in Santa Cruz, Manila on 11 November 1946. He died in San Juan City on 8 May 2019. He was the son of Marcos V. Hernando and Socorro C. Asuzano, and brother of essayist and film critic Mario A. Hernando. In 1967, he received a fine arts degree from the University of Santo Tomas (UST). He took a workshop under Ben Pinga at the Film Institute of the Philippines in 1970.
Hernando was vice chair of the Committee on Cinema of the National Commission for Culture and the Arts from 2001 to 2004, and is a board member of the Society of Filipino Archivists for Film. He was associate professor in the University of the Philippines (UP) College of Fine Arts when he retired in 2011.
Hernando first got involved in film production as assistant to Ishmael Bernal in Pagdating sa Dulo (At the Top), 1970, and to Mike de Leon in Kung Mangarap Ka't Magising (When You Dream and Wake Up), 1977. De Leon chose Hernando to do the production design of Kisapmata (In the Wink of an Eye), 1981; Batch '81, 1982; Sister Stella L., 1984; Hindi Nahahati ang Langit (An Indivisible Heaven), 1985; Aliwan Paradise (Entertainment Paradise), 1992; and parts of Bayaning 3rd World (3rd World Hero), 1999. He designed Maryo J. de los Reyes's Tagos ng Dugo (Bloodstain), 1987; Raymond Red's Bayani (Hero), 1992; and Lav Diaz's Batang West Side (West Side Avenue), 2001. He was art director in the British film production of Return from the River Kwai, 1989. He did the production design for Clodualdo del Mundo Jr's Pepot Artista (Pepot Superstar) and Paglipad ng Anghel (Flight of an Angel), 2011; Raymond Red's Himpapawid (Manila Skies), 2010, and Kamera Obskura (Dark Room), 2012; and Mes de Guzman's Diablo (Demon), 2012, and Ang Kwento ni Mabuti (The Story of Mabuti), 2013. Hernando reunited with director Mike de Leon in the latter's Citizen Jake, 2018, working as the film's production designer alongside Mike Guison. Both Hernando and Guison were nominated as Indie Movie Production Designer of the Year in the Star Awards given by the Philippine Movie Press Club (PMPC).
As a producer, writer, and director, he did the experimental films Botika Bituka (Drugstore, Intestine), 1987, and Kalawang (Rust), with co-directors Eli Guieb III and Jimbo Albano, 1989, shown in several film festivals abroad; the documentary film Masakit sa Mata (Eye Stinger), 1990; the short films Maalinsangan ang Gabi (The Restless Night), 1993, Motorsiklo (Motorcycle), 2001, and Kagat ng Dilim (Fangs of Darkness), 2006; and the unfinished digital feature film Puso ng Kadiliman (Heart of Darkness). During the Cinemalaya Philippine Independent Film Festival at the Cultural Center of the Philippines (CCP) in 2011, he had his first one-man photo exhibit, Mga Aninong Gumagalaw (Moving Shadows), featuring behind-the-scene photographs from the films of directors de Leon, Red, de los Reyes, and Diaz taken between 1971 and 2001. In 2015, his film Gayuma (Allure) became one of the entries in the QCinema International Film Festival Circle Competition.
Hernando designed three of the four Urian anthologies in 2001, 2010, and 2013; CCP Encyclopedia of Philippine Art, 1994 (all volumes) and 2018 (Film volume); Tuklas Sining, 1989-1994; and other books on cinema, theater, media, and literature. He also designed the logos of the UP Film Institute and UP College of Mass Communication. He was project director, book designer, and pictorial researcher for The Cinema of Manuel Conde by Nicanor G. Tiongson.
Hernando won Best Production Design awards from the Gawad Urian for the films Kisapmata, Bayani, and Batang West Side, in 1982, 1993, and 2002, respectively. In 2011, he won Best Achievement in Cinematography and Visual Design from the Young Critics Circle Film Desk for Himpapawid. The University of the Philippines bestowed on him the UP Artist II award in 2011. He also received the Benavides Outstanding Achievement Award from UST.