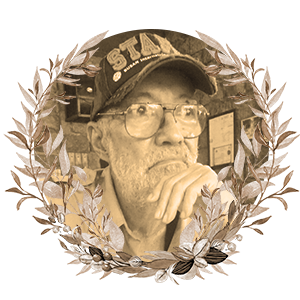 Blockbuster filmmaker, actor, writer and talent manager
April 8, 1950 – August 31, 2020
CLOYD ROBINSON (April 8, 1950 – August 31, 2020) was a director, actor, recording artist, scriptwriter, and talent manager. Even though critics often took a dim view of his films during the height of his filmmaking and scriptwriting career in the late 1970s and through the 1980s, producers supported his work because they were frequently hits with the audience. His mestizo, mustachioed features also made him a striking showbiz personality and he became well-known as a character actor as well.
Robinson first began his film career as a character actor, first appearing in the movie Orang starring Nora Aunor and Tirso Cruz III in 1970. His other films include My Pledge of Love, 1970; Zoom Zoom Superman, 1973; Lipad, Darna, Lipad, 1973; Jaguar, 1979; Bala at Lipstick, 1994; Jose Rizal, 1998, Birhen ng Manaoag, 2005 at Ang Misyon: A Marawi Siege Story, 2018. His last film Ang Mananahi is an entry to the 2020 Sorok Short Film Festival.
He directed his first film in 1979 with Risa Jones: Showgirl. Other movies he directed include Beach House and Love Affair, 1980; Pick-up Girls, 1981 and Bloody Mary, The Movie, 1987. He was also the director behind Darna and Ding starring Vilma Santos and Nino Muhlach in 1980.
He received writing credits for movies such as Darna and Ding, Risa Jones: Showgirl, and Dalagang Ina in 1977; Baby Doll in 1978; and Isa-Dalawa-Tatlo, Ang Tatay Kong Kalbo, 1979.
He became a recording artist for Sphynx records in 1970. His songs include "Love, Lost Its Way" and "Come Back My Darling."
He was also credited for helping build the careers of actors such as Al Tantay, Rio Locsin, Alma Moreno, Deborah Sun, and Mark Gil.
In an interview for PEP.ph, Ginoong Filipinas founder Dr. Lito dela Merced said in Filipino, "Tinawag na trash movies ang mga dinirek ni Cloyd. Pero mga blockbuster ito sa takilya." (They called the films directed by Cloyd "trash" movies. But they were blockbusters in the box office.)
Robinson was born in April 8, 1950 in Binondo, Manila but grew up in Bacolod City, Negros Occidental. He took up Commerce, major in banking and finance at the University of East.