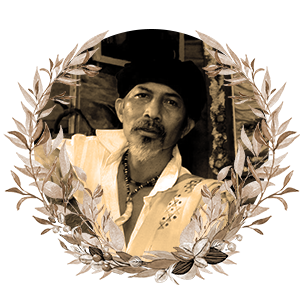 Visual Artist, Curator, Gallerist
January 14, 1951 – December 27, 2020
Jose Eddie Comille Tabancura, Ed to friends and associates, was a tour guide, restaurateur, gallerist, curator, perhaps the most prolific visual artist in Northern Mindanao, and founder of Goodtimes Café, a museum-gallery-cafe, in Dipolog City.
He was born in Biasong, Dipolog City, Zamboanga del Norte, to Indelecio Centino Tabancura and Juliana Taguibon Comille. He graduated from Saint Vincent's College with an Associate of Arts degree in 1971.
He moved to Manila soon after to work as an antiques dealer based in Ermita, which soon led him to establish Goodtimes Cafe in Malate. He relocated the cafe to his hometown of Dipolog in 1991, where it now occupies a private mini-park of about 1,000 square meters, with a two-story ancestral home housing an art gallery called Galeria Indelecio, a pub and restaurant, a pension house, and an open chapel.
The cafe became his life work, considered by many an "eclectic and surreal wonderland," a "quirky space … filled to the brim with art forms of every kind." He designed Galeria Indelecio as a place for "spiritual rejuvenation" through nature and art.
Besides being proprietor of the cafe, he worked as a tour guide, primarily handling Japanese tourists because of his fluency in Nihongo.
He was most proud of his work in Goodtimes Cafe, particularly the garden he cultivated. He considered the cafe an agglomeration of all his works and his aesthetic philosophy.
He was known for his artworks composed of cement, papier-mâché, broken crockery, and industrial discards. He exhibited regularly in Mindanao and elsewhere, notably in a 2007 exhibit at the Metropolitan Museum of Manila together with other Mindanao artists, but he was known to downplay his participation in any exhibit.