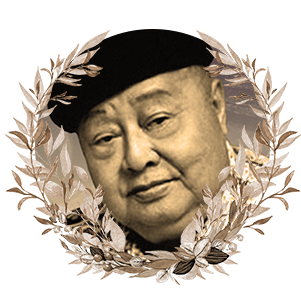 National Artist for Literature
CCP Centennial Honors for the Arts, 1999; Gawad CCP para sa Sining for Literature, 1989; CCP Literary Contest Grand Prize, 1979
December 3, 1924 – January 6, 2022
F. Sionil Jose (Francisco Sionil Jose) — 'Frankie' to friends — a fictionist and essayist, was a National Artist for literature.
Born in Rosales, Pangasinan, he was the son of Antonio Jose, an Aglipayan minister, and Sofia Sionil.
The young Frankie had to help support his family, raising hogs and working as a farm laborer. He studied at Rosales Elementary School, Far Eastern University High School, and the University of Santo Tomas (UST). After World War II, he took up pre-med studies at the Manila College of Pharmacy and Dentistry, then at UST, shifting to liberal arts later. He was editor in chief of the university paper, The Varsitarian.
In 1947, Jose joined the staff of Commonwealth, a Catholic magazine. He did not finish his studies at UST and instead worked for the United States Information Service as an assistant editor.
He later became managing editor of the Sunday Times Magazine, editor of Comment, and managing editor of the Hong Kong–based Asia Magazine. He founded the Philippine Center for International PEN in 1958.
He married Maria Teresa Jovellanos, with whom he had seven children.
After working briefly in Sri Lanka as an information officer for the Colombo Plan Bureau, he returned to the Philippines in 1965 and set up a short-lived art gallery in Ermita, Manila, and, more famously, the Solidaridad Publishing House and Bookshop, which he ran with the help of his wife.
Jose's first novels were serialized in the Weekly Women's Magazine: The Chief Mourner, 1953, and The Balete Tree, 1956, the second version of which was published in 1977.
In 1962, he published the best known of all his novels, The Pretenders. His other novels are:
• My Brother, My Executioner, 1979
• Mass, 1982
• Po-on (Dusk), 1984
• Ermita, 1986
• Viajero, 1993
• Sin (also known as Sins), 1994
• Ben Singkol, 2001
• Vibora!, 2007
• Sherds, 2007
• The Feet of Juan Bacnang, 2011.
Jose also published the following short story collections:
• The God Stealer and Other Stories, 1968
• Selected Works, 1977
• Waywaya: Eleven Filipino Short Stories, 1980
• Platinum: Ten Filipino Stories, 1988
• Olvidon and Other Stories, 1988
• Puppy Love and Thirteen Short Stories, 1998
• Selected Short Stories, 1999
• The Molave and the Orchid and Other Children's Stories, 2004
• Short Stories, 2008.
His nonfiction books include:
• In Search of the World, 1998
• We Filipinos: Our Moral Malaise, Our Heroic Heritage, 1999
• Soba, Senbei, and Shibuya: A Memoir of Post-war Japan, 2000
• Why We Are Poor: Heroes in the Attic, Termites in the Sala, 2005
• This I Believe: Gleanings from a Life in Literature, 2006
• To the Young Writer and Other Essays, 2008
• Why We Are Hungry: Rats in the Kitchen, Carabaos in the Closet, 2008
• Gleanings from a Life in Literature, 2011.
Jose's book of drama, Two Plays: Muse and Balikbayan, was published in 2008. He also wrote two novellas, Two Filipino Women, 1981, and Three Filipino Women, 1992, and authored a poetry collection, Questions, 1988.
His writings also appeared in literary journals and anthologies in Asia and in American and German publications. He was publisher and editor of Solidarity, a quarterly magazine on current affairs, ideas, and the arts.
Jose was also involved in higher education, as writer in residence, National University of Singapore, 1987, and Stanford University, 2005; visiting research scholar, Center for Southeast Asian Studies, Kyoto University, 1988; and senior associate, University of Santo Tomas Creative Writing Center, 2000.
He was also a professorial lecturer at De La Salle University, 1984-1985, 1994, and 1999; University of Santo Tomas, 1996 and 1999; and University of California, Berkeley, 1998.
From 2001 to 2021, Jose wrote a weekly column, "Hindsight," in The Philippine Star. His commentaries on the Chinese in 2015, the war on drugs in 2016, the writers Andres Cristobal Cruz and Emilio Aguilar Cruz in 2018, and the ABS-CBN shutdown in 2020 stirred much controversy.
Jose was a multi-awarded fictionist whose works have been translated into Russian, Latvian, Ukrainian, Dutch, French, Spanish, German, Danish, Swedish, and all the leading Asian languages.
He won three first prizes at the Carlos Palanca Memorial Awards for Literature for the short stories, "The God Stealers," 1959; "Waywaya," 1978; and "Arbol de Fuego" (Firetree), 1979; a Palanca Grand Prize for the novel Mass, 1981; and second prize for his essay "A Scenario for Filipino Renaissance," 1979.
He also won the Cultural Center of the Philippines' (CCP) Literary Contest's grand prize for the novel Tree, 1979; three first prizes from the National Press Club, 1957, 1961, and 1962; the Fernando Ma. Guerrero Memorial Foundation Award for literature from UST, the Republic Cultural Heritage Award for literature for Tree, and the Patnubay ng Sining at Kalinangan award from the city government of Manila, all in 1979; the Tawid Award for Cultural Nationalism from the Ilocano Heritage Foundation, and the Ramon Magsaysay Award for journalism, literature, and creative communication arts, 1980.
He also received the Smith-Mundt Leader Grant, 1955; two Asian Foundation grants, 1955 and 1960; the Asian and Pacific Council fellowship, 1971; the Outstanding Alumnus Award from UST, 1974; the Gawad CCP para sa Sining for Literature, 1989; and a Japanese Foundation Fellowship in 1993.
Jose also received the CCP Centennial Honors for the Arts in 1999, the Chevalier dans l'Ordre des Arts et Letters from France in 2000, the National Artist Award in 2001, and the Pablo Neruda Centennial Award from Chile in 2004. In 2014, he was conferred the rank of Officer in France's Order of Arts and Letters.
Jose was 97 when he died in his sleep in the evening of January 6, 2022, at a hospital in Makati City where he was supposed to undergo an angioplasty the next day.
Only some hours before his death, he posted on his Facebook page these words:
Thank you brave heart. There are times when as an agnostic I doubt the presence of an almighty and loving God. But dear brave heart you are here to disprove this illusion, to do away with the conclusion that if you doubt Him, you kill Him. I cannot kill you dear heart; you have to do that yourself. For 97 years you have been constantly working patiently pumping much more efficiently and longer than most machines. Of course, I know that a book lasts long too, as the libraries have shown, books that have lived more than 300 years. Now, that I am here in waiting for an angioplasty, I hope that you will survive it and I with it, so that I will be able to continue what I have been doing with so much energy that only you have been able to give. Thank you dear brave heart and dear Lord for this most precious gift.
His fellow National Artist for Literature Virgilio Almario wrote this about Jose and his place in Philippine literary history:
"Para sa akin, isa si Frankie sa pinakamagiting na mandirigmang manunulat sa panahon ng Cold War. Itinaguyod niya ang naging paninindigan sa naturang panahon; ikinalumbay ang kabiguang maitindig ang isang malayà, nagkakaisa, at maunlad na Filipinas alinsunod sa kaniyang paninindigan; at patúloy na inilahok ang sarili at panulat sa paghahanap ng liwanag sa ating kinalugmukan sa kasalukuyan."
(For me, Frankie was one of the staunchest warrior-writers of the Cold War era. He held up the ideals of that time; mourned the failure to establish a free, united, and prosperous Philippines in line with his beliefs; and continued to put himself and his writings forward in the search for light to brighten the darkness in which we are immured.)
Jose's family wrote simply on his Facebook page: "Our father passed away peacefully this evening. Many years ago, he told us this is what he wants written about him: 'He wrote stories and he believed in them.'"