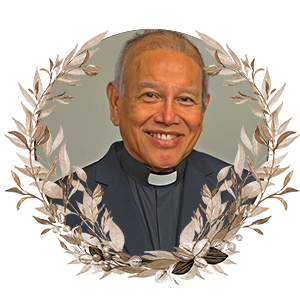 Priest and prizewinning multi-lingual author, poet, and newspaper columnist
May 19, 1947 – May 1, 2020
Father Gilbert Luis R. Centina III, OSA (also known as Felix Culpa) was a Filipino-American priest, poet, author, and newspaper columnist. He was a prolific writer who made significant contributions to Catholic literature in the 47 years that he was a member of the clergy.
A religious missionary of the Order of St. Augustine, Centina impressed his fellow religious with his many written works. The Augustinian Mirror declared him the "foremost Filipino poet in the cassock today." He won the Carlos Palanca Memorial Awards (English poetry, 1974), Focus Literary Awards (Poetry, 1982), and the Catholic Authors Awards (1986), among many other honors.
He was born in La Carlota City, Negros Occidental. As a young man, Centina entered the Augustinian monastery in Intramuros, and attended the University of Santo Tomas (UST). He graduated cum laude in all his degrees: Bachelor of Arts (1969), Bachelor of Philosophy (1969), Bachelor of Sacred Theology (1972), and Licentiate of Sacred Theology (1975). He earned his MA in comparative literature at the University of the Philippines (UP) in 1977.
Centina served as the first seminarian literary editor of UST's student publication The Varsitarian. He won fellowships to the 1974 Silliman National Summer Writers Workshop and the 1976 UP National Writers Workshop. He also served as a charter member of the Unyon ng mga Manunulat sa Pilipinas (UMPIL), then known as the National Writers Union of the Philippines.
Writing in English, Spanish, Tagalog, and Hiligaynon, he left a rich collection of literary works: nine books of poetry (seven of them written in his last seven years), two novels, a book of literary criticism, and hundreds of newspaper columns.
His Palanca-prize winning collection of poems, Glass of Liquid Truths, is the first book of poetry ever launched in Western Visayas. "Elegy," one of the poems in the collection, is now included in a high school textbook for communication arts.
The Portland Book Review writes that Somewhen, another of his poetry collections, is "modern poetry at its best," adding, "His insights into humanities' various ploys are eloquently portrayed with rich vocabulary that paints stunning images. Each sentence stands alone to provoke thought on a higher level."
Two weeks before he died of complications from COVID-19, Centina, at 72, completed his third and last bilingual poetry collection in English and Spanish — Recovecos/Crevices — which carries 350 of his poems.
In his preface, he wrote: "The new coronavirus has rewritten the rules of daily life, and even our most sophisticated technologies seem powerless to stop it, as we descend into a dystopian world where no one is sure how all this will end."
He added: "This collection of poetry is my gift to those who survived the pandemic and my tribute to those who fought well and died."