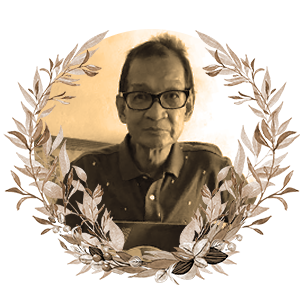 Editor of CCP EPA Visual Arts Volume, Art Historian, Curator, Author
October 15, 1946 – April 12, 2021
Prof. Santiago Albano "Jak" Pilar was the editor of the "CCP Encyclopedia of Philippine Art Volume IV: The Visual Arts." He was also an art historian, a curator, and a writer. Jak was recognized for chronicling, in several local and international publications, Philippine art and artists from the 19th and 20th century.
Jak was born in Bacarra, Ilocos Norte, to municipal judge Elias Pilar and Jesusa Albano. He attended Vigan Minor Seminary until high school, then transferred to the Convento de San Agustin. He graduated with a bachelor's degree in art history from the University of the Philippines-Diliman in 1976.
He started teaching Humanities in the university as a lecturer. He taught subjects related to art history, art criticism, art research, and connoisseurship in the undergraduate and graduate programs at UP College of Fine Arts (UP-CFA) under the Department of Theory from 1977 until his retirement in 2011.
His passion and artistic experiences independently led him to be a consultant curator at different institutions, including Ayala Museum, Metropolitan Museum of Manila, Cultural Center of the Philippines (CCP), and also Jorge B. Vargas Museum and Filipiniana Research Center.
For the Metropolitan Museum of Manila, he curated a commemorative exhibition in honor of Juan Luna and Felix Resurrección Hidalgo, and wrote for its exhibition catalog in 1988.
Pilar wrote extensively about Philippine art, his essays appearing in numerous publications such as Archipelago, Arts of Asia, Zone-D, and Orientations. His research focused on relatively unknown artists Including Jose Honorato Lozano, Justiniano Asuncion, and Domingo Celis, among others, shedding light on their forgotten achievements.
Pilar also published "Juan Luna: The Filipino as Artist" (1980) dubbed by the UP-CFA as "an essential reference for the artist," and a book on sculptor Isabelo Tampinco and his works, titled "The Life and Art of Isabelo Tampinco" (2014). He released an updated version in 2017.
His name is on the cover of at least 10 other books, including "Pamana: The Jorge B. Vargas Art Collection" (1992) and "Harvest of Saints" (2005), and he also made contributions to other publications, including "Philippine Art and Literature" (1982) and "Ilocos Norte: A Travel Guide Book" (2004).
Pilar, described as an "astute art connoisseur" by UP-CFA, was also lauded for his efforts to help preserve Hispanic art all over the country.
For his contributions to the field of Philippine art history, he was awarded the Ten Outstanding Young Men Award for Art History in 1980, and the Araw ng Maynila Award: Tagapag-alaga ng Sining in 1996.
He died of pneumonia at 74.
Jak Pilar was a prominent art historian who advocated for the recognition of other artists on a level similar to the prominence enjoyed by Luna and Amorsolo. With his genuine concern for artistic heritage, he left a lasting legacy of research excellence to his students and colleagues.