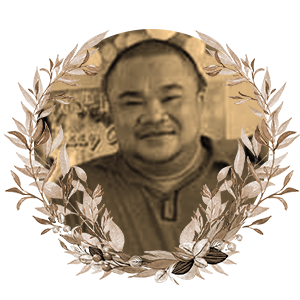 Writer, Teacher, and Patron of Literature
October 20, 1970 – May 21, 2021
Jigger S. Latoza was a writer, social science researcher, and communication arts teacher. His social and political commentaries for the John J. Carroll Institute on Church and Social Issues were published in the Philippine Daily Inquirer. He also wrote columns for the local newspapers in Iloilo City. He was a patron of creative writing and the arts in Western Visayas.
Born in Victorias City, Negros Occidental on October 20, 1970, he obtained his AB Political Science degree from the University of San Agustin (USA) in Iloilo City where he later taught political science and communication arts. He later earned an MA Communication degree from the Ateneo de Manila University and a Master in Public Administration from USA.
Among his other endeavors, he was a development consultant and worked with agencies such as the World Bank, the International Labor Organization, Canadian International Development Agency, and German Agency for Technical Cooperation. He was a Rotary Foundation Fellow in the US in 2005, and a Public Administration Fellow in Canada in 2006.
As director of USA's Center for Research and Publications, he co-founded with writer and critic Dr. John Iremil Teodoro the Fray Luis de Leon Creative Writing Institute that organizes the annual San Agustin Writers Workshop designed for beginning writers in Western Visayas writing in Aklanon, Hiligaynon, Kinaray-a, Filipino, and English. This Augustinian institute also publishes the annual multilingual SanAg creative writing journal and bestows the Fray Luis de Leon Creative Writing Grants on West Visayan writers.
In 2008, Latoza co-authored the book Pit Senyor: The Miracles of Santo Niño de Cebu with Teodoro and Michael J. Belonio, OSA. He published two monographs: Migration Trends in Asia: Challenges to Governments and Civil Society Groups (2001) and A Renewed Church in Asia : A Mission of Love and Service to Migrant Workers and Refugees in the Third Millennium (2001).
He contributed essays to many publications, including Ilonggo Initiatives: The Changing Face of Business in Iloilo (2011), Cities and Enterprises, Competitiveness and Growth: The Philippine Cities (2010), Pinoy Cities of the Future: A Competitiveness Ranking of Ninety Philippine Cities (2008), Pinoy Cities of the Future: A Competitiveness Ranking of Fifty Philippine Cities 2003 (2004), and Pinoy Cities of the Future, Cities on the Rise: A Competitiveness Ranking of 33 Philippine Cities (2002).
He was also editorial consultant and columnist of the Daily Guardian newspaper in Iloilo.
On May 21, 2021, Latoza succumbed to the complications of COVID-19 in Iloilo City, his adopted city.
According to Teodoro, "As a patron of literature, Jigger was instrumental in the training and the development of the writing careers of many young writers in Western Visayas who participated in the projects of the Fray Luis de Leon Creative Writing Institute."
Maté Espina, writing for Panay News, called Latoza, "Another good man gone too soon because of COVID-19." She quoted Iloilo City Mayor Jerry Trenas as having said that Latoza was "very helpful when it came to the development of the city."
"He was, to many people – The Jigger – he was just larger than life which comes with a boisterous laughter that we will always remember," Espina wrote.
Rotarian Dhudz Berondo posted messages calling Latoza their mentor and friend. "You left great footprints and I am grateful to be one of those lucky enough to experience the blessing of your life."