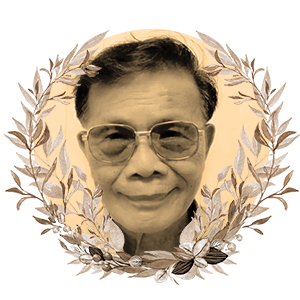 Writer, Pastor, Community Leader
January 10, 1941 – April 25, 2021
Rev. Joel Bon Tabada was a pastor, writer, and community leader.
He was born in Malimono, Surigao del Norte, and earned his degree in pastoral ministry from Silliman University in 1964.
In 1967, he began his pastoral service at the United Church of Christ (UCCP) in the Philippines in Mangagoy in Surigao City with his wife Grace, who had graduated cum laude with a degree in music, also from Silliman.
He returned to Silliman in 1969 to earn his master's degree in Divinity, graduating in 1971. A chance meeting with Dr. Harry Pak, the Korean-American pastor of Silliman Church, led to a challenge for him to help Dr. Pak minister to the church.
Rev. Tabada was soon given the responsibility of taking care of the Involvement Task Force, where Silliman Church people, especially students, could freely voice their concerns about city life, as well as about the national situation.
He was the first Sillimanian arrested by the military when Martial Law was proclaimed in 1972. On September 23, 1972, a Sunday, Rev. Tabada delivered a sermon titled "Burn!," based on Luke 24:32, about a critical moment in the lives of Christ's disciples given the choice to stay or flee after his crucifixion. By midnight, fully-armed soldiers, led by 2nd Lt. Aurelio Palmos, stood outside the parsonage to arrest him. In prison, he served as pastor to many student detainees, and was soon released, resuming his duties with Silliman Church.
Perhaps because of this experience, he became field education supervisor for several years in the prison ministry of the Divinity School of Silliman University. He also wrote lyrics for hymns, most notably "Mahimo Ba ang Alawiton," a staple in UCCP services.
In his later years, he helped his son Callum establish Negros News, one of the leading community newspapers in Negros Oriental in the 2000s.