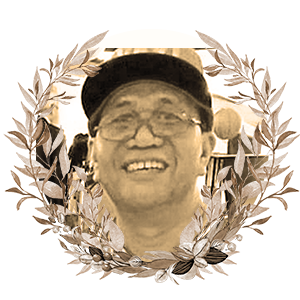 Entertainment journalist, editor, and erstwhile talent manager
1964 – 2020
KC GUERRERO (1964-2020) was a veteran entertainment writer and editor and for a time also managed showbiz talents. Guerrero is remembered for the high bar he set for stories from the entertainment beat: they had to be compelling and exciting but also competently written, and up to par with journalism standards. He was also a talented cook, something that friends fondly remember him for.
He began his career in entertainment journalism as a staff member of People's Tonight in the early 1980s. Honing his skill in both interviewing celebrities and writing about them, Guerrero also worked under media heavyweights ABS CBN and DZRH.
Years later, he inspired the founding of Makinilya, an organization of entertainment writers in the Philippines. Guerrero's familiarity with the Philippine showbiz industry eventually brought him to work with talent manager Jojo Veloso under Veloso's talent agency Philippine Modeling Agency. For a while, Guerrero dabbled in managing talents.
Ultimately, however, Guerrero ended up with what he loved best to do: journalism. He worked as the managing editor of Saksi Ngayon and the since discontinued Diyaryo Bomba, both publications of Peryodiko Filipino, Inc. This career path, though, was the farthest from what Guerrero set out to do in his youth. He had intended to work in economics.
Born on December 7, 1964 in Cabatuan, Iloilo, Guerrero was the second of nine children. He grew up with the nickname Toto, an Ilonggo address that means older brother. It was a nickname that Guerrero took seriously; he funded his younger siblings' private school tuitions, served as their private tutor, and doted on his nieces and nephews, whom he also tutored.
The bright Ilonggo was a stellar student from the beginning. He was valedictorian of his elementary class in 1977, and of his high school class in 1981. This earned him a scholarship to the University of the Philippines Diliman, where he took up AB economics. In his senior year, Guerrero shifted to journalism. This decision paved his way into the volatile but always entertaining Philippine entertainment industry.
Guerrero belonged to a breed of Filipino entertainment writers and editors with strong skills in journalism. With them, Guerrero delivered stories that fascinated his audience.