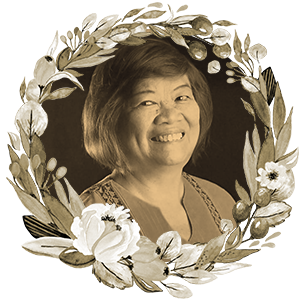 Writer, Teacher, Literary Critic, Translator
February 5, 1949 – February 15, 2021
Lilia Quindoza Santiago, LQS to friends, was an award-winning writer, teacher, anthologist, literary critic, translator, and interpreter, known for her outstanding research on Philippine languages (Ilokano and Tagalog), Southeast Asian studies, popular cultures, gender and sexuality, and literature.
She was born in Manaoag, Pangasinan but grew up in Baguio, and went to Baguio City National High School. She then entered the University of the Philippines, where she earned a BA in English (1971), an MA in Comparative Literature (1980), and a PhD in Philippine Studies (1990).
In 1972, when the Philippines was placed under martial law by Ferdinand Marcos, she was one of the student activists rounded up, arrested, placed in detention centers, and tortured by the military.
Santiago taught for over thirty years at the University of the Philippines, where she attained the rank of full professor and served as Associate for Fiction at the Likhaan: Sentro ng Malikhaing Pagsulat. After retirement from the UP, she taught for nine years at the University of Hawaii at Manoa, where she was Assistant Professor of Ilokano at the Department of Indo-Pacific Languages and Literatures.
She was chosen Makata ng Taon of 1989 by the Surian ng Wikang Pambansa (now the Komisyon sa Wikang Filipino) for her powerful poem "Sa Ngalan ng Ina, ng Anak, ng Diwata't Paraluman," which ends thus:
"Basbasan ang aking pagsalakay sa karuwagan, / Pagpalain nawa ako sa taimtim na paglaban / Ngayon, hanggang katubusan. // Sa ngalan ng ina, ng anak, ng diwata't paraluman. (Bless my assault on cowardice. / May my heartfelt battle be victorious / Now, until redemption. // In the name of the mother, the offspring, the goddess, and the muse.)"
Santiago authored over 20 books, including her poetry collections Kagampan (1989) and Asintada (1997), and her short story collection Ang Manggagamot ng Salay-Salay at Iba Pang Kuwento (1989).
Among her works is the novel Ang Kaulayaw ng Agila (2002), which won the Grand Prize at the Carlos Palanca Memorial Awards for Literature in 1999. In 2004, she won the Gawad Balagtas from the Unyon ng mga Manunulat sa Pilipinas and was recipient of the Outstanding Professional Service Award from the UP Alumni Association.
In 2005, she was Fulbright Visiting Professor at Old Dominion University in Norfolk, Virginia. From 2018, she also taught at Tidewater Community College in Norfolk, where she was adjunct professor of English. She was also a contributing writer for the Hawaii Filipino Chronicle.
Santiago was married for 43 years to fellow activist and poet Jesus Manuel Santiago. They had four children. She died in Virginia ten days after turning 72.
Santiago's work was always geared towards achieving social engagement and peace. She once wrote: "One of the most powerful weapons that enable people to build peace is the imagination. It is the imagination that creatively charts a new way of doing things, a new order.
"In the most solitary confines of detention when I had only the wall and the self to talk with, I fought desolation by keeping my mind at work. I imagined and wrote several stories to and of myself. I was re-inventing myself and began to discover there were other selves other than the one that was with me.
"Those other selves were not as bitter and resentful, even as they were rebellious and free. Those other selves I imagined were better persons because they were not as shackled and restricted and repressed as I was. The imagination and desire to be free led me to write poetry." #