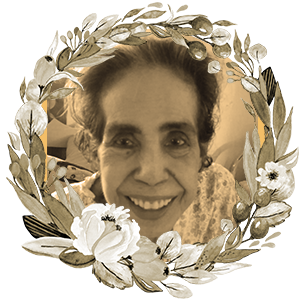 Pioneering Tausug Fictionist, Journalist
November 19, 1940 – March 27, 2021
Noralyn Mustafa was a pioneering Tausug fictionist and journalist.
In November 19, 1940, she was born in Jolo, Sulu, the daughter of a public school teacher and a tobacco farmer. She first started to write in high school after meeting Ibrahim Jubaira, then considered the best Filipino Muslim writer, and with instruction from her English teacher Patria Obsequio-Gonzaga, an education graduate from Silliman University.
For college, she went to Manila for a series of interrupted studies, first at Philippine Women's College to study nursing, and then at the University of the Philippines, where she belonged to the pioneering batch of the university's creative writing program, and also studied fine arts.
Both ended with her returns to Jolo, first to work at DXLC radio where she became a popular on-air fixture, and the second time to raise a family and to pursue her fiction, getting regular publication in the Philippines Free Press, Philippines Graphic, Diliman Review, and other national and local publications.
Among Mustafa's noted works of fiction are the short stories "And the Smell of Many Flowers," "Termites," "A Day in the Life of Dr. Karim," and "To Pet, Who Saw Me through November."
In 1977, she earned a fellowship at the Silliman University National Writers Workshop, where she considered the mentorship of the Tiempos crucial to her development as a writer. She later wrote for the Philippine Daily Inquirer, penning the "Kris-Crossing Mindanao" column and serving as the paper's Sulu correspondent starting in 1996. She was known for her fearless journalism, and once dared to enter an Abu Sayyaf camp to scold them.
Mustafa taught communication and creative writing at the Ateneo de Zamboanga, where she also served as coordinator of its Institute of Cultural Studies for Western Mindanao. As an authority on Mindanao history and culture, she was also a consultant for the academe and local government units. In 1975, she joined the Office of the Regional Commissioner, the precursor of the Lupong Tagapagpaganap ng Pook, which would later become the Autonomous Region of Muslim Mindanao.
Mustafa also served as correspondent for a number of national and international media outfits. She was featured on documentaries locally and abroad, on topics, such as the Muslim insurgency and the peace process. She also wrote and archived works on the history, sociology, and politics of Southern Philippines.
Mustafa's most recent work of fiction—an excerpt of her unpublished autobiographical novel Pages From a Journal, about the Moro rebellion and burning of Jolo in the 1970s—appeared in Tenggara: Journal of Southeast Asian Literature, published in Kuala Lumpur, Malaysia. She was featured in Songs Sprung from Native Soils: More Conversations with Eight Mindanao Writers, edited by poet Ricardo M. de Ungria and published by Xavier University Press in 2019. Her short stories remain uncollected.
She died at 80 of complications from aspiration pneumonia.
Mustafa was considered the first Tausug woman fiction writer at a time when there were few Tausug writers, but she resisted the labeling, once telling De Ungria: "I wanted to be just a writer, and an essayist, and a novelist. Period … Why do I have to be a woman and a Muslim, etc., etc.?"
Not only was she an accomplished writer, she also encouraged others to write. In a tribute, Amir Mawallil wrote that Mustafa told him in 2011: "We really need more writers and journalists because we have so many stories to tell, both about yesterday and today," adding "The youth perspective is very important. Just keep your eyes and ears open, and your notepad ready."
Filmmaker Raz de la Torre, who interviewed her for his senior thesis, wrote about her with fondness and gratitude: "It is only now that I am beginning to realize that my time with Noralyn and all those people I met in Mindanao influenced the kind of storyteller that I have become. Someone who aspires to listen without prejudice. Someone who tells the story for its intrinsic value, not just for the audiences who could hear them.
"Noralyn was opinionated – but also funny, articulate, and unfiltered. She matched all that with a kindness and generosity that made me feel like Mindanao was home…
"I hope we never forget what a great journalist and storyteller Noralyn was. I hope she knew she made an impact on people like me."