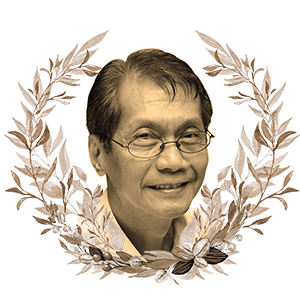 One of the Philippines' greatest editorial cartoonists who brought his keenly insightful, razor-sharp observations of Philippine society to the world through brilliantly rendered illustrations.
1947 – 2020
NORMAN B. ISAAC (1947-2020) was a multi-awarded editorial cartoonist. He brought honor to the Philippines by representing the country and earning numerous accolades abroad. Isaac had twice won the Hidezo Kondo Prize at the Yomiuri Shimbun International Cartoon Contest in Tokyo Japan – once in 1983 and again in 1988. He was also recognized as Best Editorial Cartoonist at the National Press Club Journalism Awards in 1989 and bagged the same award at the US Population Institute's Global Media Awards in 1997.
Isaac earned many more accolades throughout his career, including Honorable Mention in the United Nations/Ranan Lurie Political Cartoon Awards in 2005; First Prize in the Association of Southeast Asian Nations (ASEAN) Editorial Cartoon Contest in 2007; and Second Prize in the United Nations Development Program (UNDP) Asia-Pacific Editorial Cartoon Contest on Climate Change in 2012.
Participating and winning various art competitions took Isaac all over the world, including Bulgaria, Belgium, France, and Tanzania. He also participated in exhibitions in Canada, Germany, Italy, and Yugoslavia. As mass communication and comic art researcher John Lent once commented, "Isaac's ubiquitous works appear internationally."
Amid his prominence in art circles abroad, Isaac worked to collaborate with local talents and inspired those who wanted to follow in his footsteps. He was an active member of the Society of Philippine Illustrators and Cartoonists, and later, the Samahang Kartunista ng Pilipinas (Philippine Cartoonists Association).
"Sa unang tingin, aakalain mong simpleng cartoons lamang ang gawa ni Isaac," said award-winning comic book artist and illustrator Randy Valiente. "Ngunit matapos mo itong tingnan, mapapatigil ka, mapapaisip, at magbubukas sa iyo ng mundo kung paano mag-isip ang isang matalinong kartunista."
Isaac was born on August 24, 1947, in Santa Cruz, Laguna. He obtained a degree in Fine Arts at Philippine Women's University and pursued further art studies from the Washington School of Art. He served as an editorial cartoonist for Manila Bulletin and Tempo.
Isaac passed away on June 10, 2020, three days after getting severely injured in a hit-and-run incident in Dasmariñas, Cavite. He was survived by his wife, Lerma, and their three sons, Irwin, Glen, and Orville.
Isaac was an industry trailblazer gone too soon. But as he once wrote in his comic strip, "The problem is not to add years to our life, but to add life to our years." It seems that Isaac took this quote to heart because, as his accomplishments show and people close to him could attest, his years were filled to the brim.