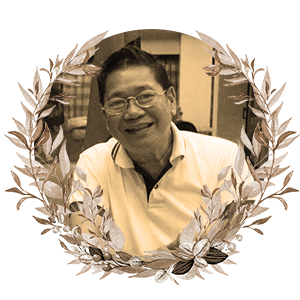 Chabacano advocate, Educator and Cultural Worker
May 13, 1951 – May 23, 2021
Dr. Roberto B. Torres was a cultural educator and a fervent Chabacano language advocate.
He was well known as an educator and academic who was involved both in research and administrative work for Western Mindanao State University (WMSU), where he touched the lives of many people on campus.
"He was an active official and very friendly to the students," wrote one person who knew him.
As the holder of a BS Education degree, with a major in Biology, he was tapped to teach at WMSU's College of Science and Mathematics. He was later made Special Assistant for Socio-Culture and the Arts and was responsible for all arts and culture programs under the university's Office of the President. Eventually he headed the Office of Culture and the Arts from 2000 to 2012 as director.
He also was the director of the Center for Institutional Linkages and Alumni Relations of WMSU from 1991 to 1999.
With his involvement in various art forms and cultural endeavors, Dr. Torres served as committee member of the National Commission for Culture and the Arts (NCCA) starting as an Executive Committee Member in the National Committee on Dramatics Arts (NCDA) from 2001 to 2007.
After his involvement in the dramatic arts scene, Dr. Torres focused on his work of promoting and preserving the Chabacano language. He also taught Spanish, and in line with his interest in languages, helped preserve and develop Chabacano through research and knowledge-sharing.
He wrote a seminal textbook, El Primer Alfabeto Chabacano. Among his other works were translations of Zamboanga Chabacano folk literature into Filipino which he did with the Academia del Lenguaje de Chabacano, Inc., an organization that he spearheaded.
Because of his work on preserving and developing Chabacano, he became a member of the National Committee on Language and Translation under the Subcommission on Cultural Education, serving for two separate terms, from 2007 to 2009, and again from 2012 to 2015.
Dr. Torres also served as a member of the WMSU Board of Regents/Trustees and also as University Vice President for Research, Extension Services, and External Linkages from 2012 to 2016. He retired from government service on May 13, 2016.
Apart from his work in the language sector, Dr Torres was also involved in preserving textile and weaving traditions in the Western Mindanao region. In 2006, through an NCCA grant, he conducted a research study titled "Mascota: Documentation on the Evolution of the Design Pattern of Zamboangueño Culture." He also produced The Art of Pattern Making, a book he published in 2016.
Dr. Torres passed away at the age of 70, survived by his wife Zeny Aliangan Torres and their children.
Much loved by the people he encountered in his busy and productive life, he was considered by many to be "very kind and accommodating."
He left a substantial body of work and a legacy in Philippine culture that many appreciate, as this brief tribute to him on one of his memorials shows:
"Descansa en paz, Señor. Muchas gracias por sus esfuerzos para preservar y fortalecer el idioma chavacano." (Rest in peace, sir. Many thanks for your efforts to preserve and strengthen the Chabacano language.)