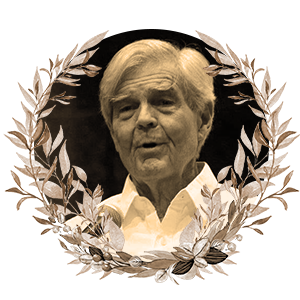 World War II in the Philippines Memory Advocate and Patron
November 7, 1932 – January 13, 2022
Roderick McMicking Hall was a staunch advocate of war memory, and an ardent supporter and beloved patron of Philippine World War II document and artifact archiving efforts.
Born in the Philippines, Hall's parents were of Scottish and Spanish ethnicity. His mother Consuelo was the sister of Joseph "Joe" McMicking, the acknowledged brains behind the Ayala conglomerate and the making of Makati City.
During the Japanese occupation, Hall lived with his grandparents in Manila. On Jan. 20, 1945, Roderick and his family were taken by Japanese troops. He and his brother were released, but the rest of his family were kept as prisoners. Roderick was 12 at the time.
He never saw his grandmother, mother, uncle, and aunt again.
Benjamin Hall, Roderick's son, in a piece for Fox News about his father's story, tells what happened next. During the Battle of Manila, as U.S. troops moved closer to the city, "my father and his siblings, now alone, made a dash for it, trying to leave the Japanese zone and reach the liberating U.S. GIs.
"Running through the bombed-out streets trying to reach safety, my father remembers how another little boy was shot dead just ahead of him by a sniper. They all stopped in their tracks, stunned, but the GIs just ahead of them screamed at them to keep going.
"When they reached the American lines, they were met by large canisters of scrambled eggs and hot coffee. They'd reached safety."
Nine years later, added Benjamin, Roderick moved to America with his father Alastair, who survived the war. Roderick graduated from Stanford and enlisted in the U.S. Army, serving in Korea. "He said he was saved by the American military, and he's been grateful ever since."
Hall worked hard over the decades to collect various resources of war memory, gathering as much data, personal histories, and official reports as he could on events and experiences in the Philippines during World War II.
He also supported their preservation, digitization, and accessibility through the Filipinas Heritage Library (FHL), to which he donated his collection. The Roderick Hall Collection on World War II in the Philippines is one of the FHL's highlights.
"Roderick dedicated his collection to the memory of Angelina Ynchausti Rico de McMicking, Consuelo McMicking Hall, Alfred McMicking, and Helen McMicking—those he last saw that fateful January morning," wrote Manuel L. Quezon III in his Philippine Daily Inquirer opinion column.
Hall also helped to create public programs and linkages with partners and institutions around the lessons of World War II. He was one of the four co-authors of the book Manila Memories, the stories of four young European boys in the Philippines during World War II.
He also studied oral histories of native tribes, including the Manobo of Mindanao, the tribes of Panay, and Kalinga of North Luzon.
Quezon added that in 1995, survivors of the Battle of Manila put up an association that established a memorial and annual commemoration that Roderick and his sister Connie attended annually, although they lived abroad.
Roderick Hall used the occasions as "an opportunity to establish meaningful partnerships with institutions, families, and individuals who entrusted his collection with their papers; and much else besides by way of philanthropy," Quezon wrote.
Hall passed away at the age of 90. He dedicated his life's work to honoring survivors and veterans: the Filipino, American, and Japanese heirs of that part of history.
"He lived most of his life in Britain and America, but his earliest years and maternal roots were here," wrote Quezon.
"Rod Hall lived our past; he set out to honor and enrich our shared historical and cultural patrimony by making meaningful contributions to its preservation and dissemination. He succeeded."