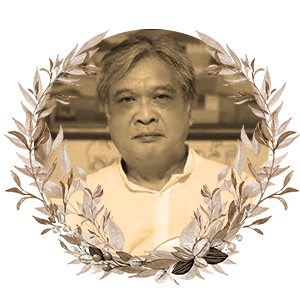 Classical Guitarist, Music Director and Jazz Bassist
August 11, 1959 – January 20, 2022
Ruben F. Reyes had an extensive repertoire in the field of the Philippine classical guitar. He was a music director, guitar teacher, and a talented jazz bassist.
Reyes was born on Quezon City. His parents hailed from Ilocos, but he grew up and lived in Makati.
In the early 90s, he was a regular performer at Paco Park's Concert at the Park. He also played with his jazz band MAJAM at various venues and festivals, most notably as a soloist performing Claude Bolling's Suite for classical guitar and jazz piano.
He studied guitar first at the Philippine Women's University, but finished his bachelor's in the University of Santo Tomas. He was the first in the country to earn master's degree in classical guitar and graduated as summa cum laude.
When he started out as a guitar teacher in the 90s there weren't many players in the country, nor a classical guitar scene, for that matter. His program at the UST changed that. He pioneered the UST Guitar Ensemble.
He performed at the Cultural Center of the Philippines numerous times for countless concerts and festivals—as featured jazz artist, classical guitarist, and conductor.
In 1994 he was featured in the Filipino Artist Series to premiere an original composition specifically written for him by Professor Bernardino Custodio, the Prelude and Fugue for classical guitar.
Another of his most important featured solos at the CCP is with the UST Guitar Ensemble, playing Joaquin Rodrigo's infamous and virtuosic piece, Concerto de Aranjuez.
He was also the first in the country to perform Brouwer's Concierto Elegiac at the PhilFest in 2009.
He passed on last January 20, 2022 because of acute respiratory failure due to lung cancer. He left behind his wife, Leonida Reyes, and his only daughter, Rayna Vihuela Reyes.
He was a music director for the Centro Escolar University Guitar Ensemble, and the Silangan Chamber Guitar Ensemble —directing festivals, concerts, and arranging and transcribing countless pieces for these groups. He was also Guitar Chair for National Music Competition for Young Artists (NAMCYA) in 2018 and 2021.
In 2018 he was honored by the Manila Guitar Festival for his impact to the discipline of guitar performance and pedagogy in the country. He was also recognized as outstanding faculty member by the CEU. In 2019, the UST Conservatory of Music Guitar Department gave a tribute concert in his honor, Agradecer al Maestro.
He mentored so many talented young artists who later on went to win major competitions, and had flourishing careers as performers or teachers, locally and internationally.
His daughter Rayna had good words about Reyes who was also known as 'Maestro,' "he never measured his work through awards and accolades. He never sought them. If he were alive, he'd say that his greatest achievements are his students. The ones today keeping classical guitar music alive."