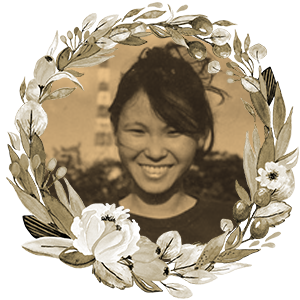 Entrepreneur, Writer, Pastry Chef, Heritage Cuisine Advocate
August 22, 1975 – September 12, 2021
Ruby Nicole "Colette" dela Cruz was a pastry chef, entrepreneur, and writer. Laguna's famous Colette's Buko Pie was named after her by her mother, Atty. Regina Bulatao-dela Cruz.
She was born in Manila to Regina and Plaridel dela Cruz (now a city councilor of San Pablo), who fought against martial law and were both detained, Plaridel for a year. Colette grew up in San Pablo, Laguna.
Colette was attending high school at the University of the Philippines-Los Baños (UPLB) when her parents started the business with P5,000 capital in San Pablo, Laguna. Now, branches of the buko pie chain are scattered along the highways of Tagaytay and Laguna to cater to Manila-bound passengers.
As early as age six, Colette became interested in baking and was taught by her maternal aunt, Socorro Bulatao. Colette loved to read cookbooks: "At seven I already knew what glucose was. I knew what chartreuse was because of the list of food colorings. I read labels, so I knew what maize was and its color." Her mother then enrolled her in baking lessons when she was in high school.
She earned a degree in food technology from the University of the Philippines Los Baños (UPLB), where she joined the Perspective, the official publication of the University, in 1992. She later became its culture editor and was described as being articulate, especially on women's issues.
Besides being a writer, she also helped revive the cultural group Tulisanes where she was a guitarist.
Dela Cruz was also a lover of literature; her son Stefano said, "Pinalaki niya ko around books, reading, writing, and the humanities." In a 2019 interview, she said "I wanted to take my masters in comparative literature, but I really couldn't do away with food." So she took a non-degree literature course at UP-Diliman.
Dela Cruz later worked at The Maya Kitchen as a researcher, demonstrator, and writer; trained at the Center for Asian Culinary Studies under Chef Gene Gonzales; and became a pastry chef helper at Sofitel Philippines Plaza Manila.
She later moved to Boston with a plan to take postgraduate studies in gastronomy, but found the course to be too expensive. She worked at French restaurants Sel de la Terre and L'Espalier, where she honed her culinary skills and discovered the locavore movement. She also worked as a call center agent and an ESL teacher.
In 2016, Dela Cruz returned to the Philippines for good, co-founding Hiraya Bakery that year with Likha Babay. Prior to opening the bakery in Maginhawa Street, Quezon City, she held pop-ups at Casa San Pablo, owned by fellow heritage cuisine advocate An Mercado Alcantara, to showcase her delicious pastries.
Colette died of COVID-19 at the age of 46 and is survived by her father Plaridel and her three children Stefano Lean, Keziah Benjamin Elijah, and Liz.
Alcantara wrote on Facebook that they had been planning to document and vlog about San Pablo ingredients and food. "We also said we would be fellow writers together, egging each other to get the stories in our hearts written before the freelance writing jobs take up all our energy."
Her aunt Socorro said Colette "traversed each path with a sense of ease because of her innate talent, strong commitment, and pure passion. To her, it was not a career pursuit, but a channel of her creativity and social commitment."
Stefano described his mom as his "source of guidance, comfort, and unconditional love": "How lucky I was to have her as my mother, how she raised me with her love for food and books and music and movies and so many other things, and her values of empathy and kindness and compassion and her dream of establishing a foundation for children, and how she imbued into me the desire for adventure."