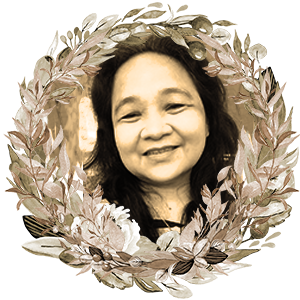 Writer in Ilocano, Storyteller, and Literary Mentor
September 9, 1967 – September 12, 2021
Aileen Balancio Serrano was a passionate writer, hopeful human being, and mentor to young Filipino writers. She created spaces for local poets and fictionists to thrive in, and served the writing community as a beacon of support and encouragement.
Serrano was born in Cabugao, Ilocos Sur. She attended Saint Louis University, where she met a man named Silvino Aguinaldo. Serrano always believed in love, but never planned on marrying. Yet the two shared a partnership that lasted a lifetime. They raised four sons — Alvin, Robin, Leovin, and Travis.
Serrano was one to seek out opportunities for herself. Amidst financial trouble, she personally wrote to President Joseph Estrada, who responded by granting her a job in the government. She left for Manila to support her family in Ilocos, as she wanted her children to stay where she grew up, and where they could always find ways to be together.
Aileen wrote prolifically in Ilocano. Her family noted her longing to "have a voice" and she did so through her works. Her dreams of travelling to the North Pole in order to witness the Aurora Borealis inspired her work of the same name. And her most notable work of fiction, Ti Palimed Ni Katugangak (The Secret of my In-Laws), was inspired by her late grandmother, Lilang Orang. Ti Palimed Ni Katugangak won her 3rd place in the 2013 Carlos Palanca Memorial Award for Literature in the regional division.
Literature also granted Serrano the opportunity to find a community. She shared her passion for poetry and storytelling with her friends, and extended this endeavor to an online group where she mentored budding young writers and bonded with others over writing. She considered this community, the Pusong Makata Association, a second family.
She was also the founder and forum director for the Young Filipino Writers Forum, a group that considers Serrano their leading exemplar. These and several other groups allowed Serrano to not only impart guidance, but also gave her the voice she had been looking for.
Serrano had a myriad of aliases. She was named Gorgonia at birth but later chose the name Aileen for herself. Her pen names and online aliases include Buryong, Alexander Samson Cruz, and Joaquin Rozcaldo. However, she may be simply called a matriarch, a woman who pursued avenues for budding poets and fictionists; who sacrificed herself for the future of her sons and supported them through thick and thin; a mother who despised chaos and mess, a person who loved mobile games, and whose words left a lasting influence on those who knew her.
Her son Alvin shares his mother's poetic passion and wrote on her passing, "Alam ko namang ikaw ay nariyan lang / Gagabay sa amin, magpakailanman" (Indeed, I know you will always be here / Guiding us, forevermore).