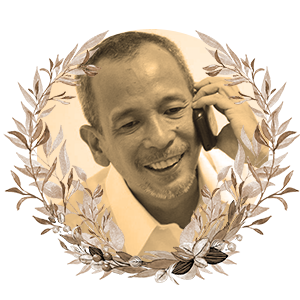 Film Director, Actor, Screenwriter, Teacher
September 26, 1967 – May 11, 2021
Gabriel Fernandez, 'Gabby' to friends and associates, was an award-winning film director and actor, screenwriter, teacher, and cultural worker. He was also legendary for his fierce advocacy for regional cinema and filmmaking.
He was born in Manila and was descended from the De Los Santos and Moreno clans of Tondo. But he chose to move to Bacolod City, Negros Occidental where he earned his mass communication degree from the University of St. La Salle in 1993.
It was in Bacolod where he established himself as an artist, both as performer and filmmaker. He founded The Actors Company in 1993, and initiated the first Teatrokon in Mambukal that same year. He also founded the improv group Kinengkoy Comedy Express in 2000, for which he would gain a following as a pioneering improv guru in the country. He would parlay these acting and coaching efforts to Big Bang Cheery, which he founded in Manila in 2003, and The Wazak All-Stars, which he founded in 2016.
Fernandez was a pioneering participant in The Negros Summer Workshops, founded by director Peque Gallaga and writer Elsa Coscolluela, and was part of its first batch in 1991. This led to serious film work—and soon, film mentorship. His first film was Gallaga's Magic Kingdom: Ang Alamat ng Damortis (1997), where he was art director as well as supporting player. He also did the art direction for Gangland (1998) and Puso ng Pasko (1998).
Art directing was important to him, and he once said: "World-building is the heart and the substance of production design, whether it's for film or theatre. Whether we are doing a production design for a realistic scenario or a fantasy world, the production designers literally create or build the world where the story revolves in."
As a screenwriter, Fernandez got story credits for Magic Kingdom and Gangland, and later wrote the screenplay for Sa Piling ng Aswang (1999). In 2004-2005, he also worked as assistant director for GMA's popular TV series, Mulawin.
By 2005, he was teaching at the De La Salle-College of Saint Benilde, where he was founding chairperson of its production design program and mentored many in the various facets of filmmaking. Of his foray into teaching, he once quipped: "I started out as a director who wanted to teach on the side, and ended up being a teacher who would direct films on the side. Looking back, it seemed destined and I wouldn't have it any other way."
He went on to direct and write his first feature film, Nasaan si Francis? (2006), a comedy based on a play he'd written. His second film as director was Mana (2015), a psychological drama set in Bacolod City of a rich and influential family coming to terms with the death of its matriarch. With a star-studded cast including Cherie Gil, it was produced by Benilde for its 25th anniversary, and paved the way for Fernandez to put to practice his filmmaking tenets with his students.
On creating a film, Fernandez once said: "If you want to be a director, take the time to learn the ropes by immersing yourself in the different aspects of production," and credited his success to all the years spent as set designer, writer, acting coach, and assistant director.
Mana earned multiple nominations at the 2015 Madrid Film Festival, including Best Film and Best Director, and Gil won the award for Best Lead Actress in a Foreign Language Film. She and Fernandez were honored by the Philippine Senate with a resolution congratulating them for their achievements. In 2016, they received the Ani ng Dangal award from the National Commission for Culture and the Arts for Mana.
In 2020, Fernandez released the documentary Alon, where he tackled the impact of plastic waste on the country's waters, filtered through the stories of local surfers who became ecological activists in the light of their constant encounters with trash in the seas. The film, also produced by Benilde, was nominated for Best Foreign Language Documentary, Best Director of Foreign Language Documentary, and the Science and Education Award at the 2020 London International Cinema Festival, winning the last.
Much less known, however, was Fernandez's dedication to advance and promote regional filmmaking. He had already carved out, together with Peque Gallaga, Manny Montelibano, Tanya Lopez, and others, a strong culture of filmmaking in Negros Occidental, creating what many lovingly called "Bacollywood."
But he was also instrumental in shaping Cinema Rehiyon, the annual festival of Philippine regional cinema, together with Teddy Co and Mike Rapatan. Fernandez was Cinema Rehiyon's founding festival director.
After holding the first editions of Cinema Rehiyon at the Cultural Center of the Philippines in 2008, he was also instrumental in making it truly regional, by moving its hosting to the regions, first in Davao in 2011, and then Bacolod in 2012.
Fernandez was to the end a dedicated teacher: "To teach for one to two years is fun. Five years [in], it starts being a chore. To teach for ten is burn-out. [But] to teach for 15 is an achievement, a commitment, a belief that education can and will make a difference," he once said. He taught for 15 years.