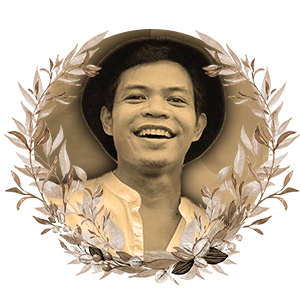 Artistic Director, Choreographer, and Producer
June 22, 1988 – February 03, 2022
Cir-Anthon Paolo C. Garing was born on June 22, 1988 in Batangas City. He started his dance career as the founder and head coach of the De La Salle Lipa (DLSL) Danzcom Pep Squad in 2008. In 2018, he graduated with a Bachelor of Performing Arts Major in Dance with focus on Visual and Performing Arts at De La Salle – College St. Benilde. He was skilled in Dance Music, Stage Direction, Contemporary Dance, Modern Dance, and Dance; and became the youngest accredited coach of the Philippine National Cheerleading Championship in 2009.
He was the coach of the All-Girl Pom Division of the National Cheerleading Championship as they became a three-peat National Champion from 2014-2016. Moreover, he was a two-time Gold Medalist in Contemporary Solo in the Hong Kong Challenge Cup of 2016 and 2017. In 2018, his group won National Champion in the Coed Elite Group Stunts Philippines National Cheer Grand Prix.
After winning national titles in cheer and dance, he continued pursuing his passions and his explorations into the contemporary arts. In 2017, he became a performer in NeoFilipino at the Cultural Center of the Philippines. In the same year, Cir Garing directed and choreographed HUDDLE, the tenth anniversary concert of the DLSL Danzcom Pep Squad. It was a hybrid of contemporary dance and athletic movements which unfolded the stories behind the colorful lives of athletes, as well as their hardships and sacrifices. For four months in 2018, he also became a creative director in De La Salle – College of Saint Benilde. Later on, Cir Garing choreographed and directed Pamato, a dance thesis production which showed a series of non-narrative dance performances inspired from indigenous Filipino games. In 2019, he became the lead actor of the film "Kung Saan Patag ang Bundok" of Mapua University Dance directed by Dolliete Mari Crisiti F. Echon.
On February 3, 2022, at the age of 33, Cir Garing passed away.
His impact on others is evident from the amount of messages that poured in from his students and co-workers. In a message to Cir Garing's family, Nina Anonas, the chair of De La Salle – College of Saint Benilde said , "He was a vibrant part of our community while he was a student at SDA," as she reminisced the old days with Cir, "Please be assured that you raised a superb human being who had authentic relationships, one who aspired to greatness in his craft, one who sought kindness, and one who was flawlessly human,"
"Coach Cir was far more than the greatest and most talented coach. He always saw the best in us and never ceased to bring us success. Not only did he teach us the cheerleading skills and attitude but especially teamwork, bravery, self-discipline and perseverance. He was and will always be our family and mentor," a message from the family he built, DLSL Danzcom Pep Squad.
Lawrence Regie Rodil, a student that he had coached and mentored said, "You can now dance with the angels in heaven. Will surely treasure every moment na kasama ka namin kasi ikaw ang nagturo sa akin na maging strong in life."
Cir-Anthon Paolo Garing was an artist well-loved by everyone and had inspired countless people with his message, "In these trying times, always remember to be grateful. Life is beautiful, empower your potential and let your light SHINE."