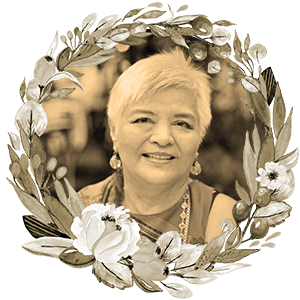 Journalist, Editor, Lifestyle Maven
January 22, 1940 – September 6, 2020
Ethel S. Timbol was for many decades the lifestyle editor of the Manila Bulletin, the largest broadsheet in the country.
Born Ethelinda Villaflor Soliven Timbol, she worked there for 47 years until she retired in 2008. She rose through the ranks starting as a youth and student affairs reporter, then shifting to the crime and politics beat, and eventually becoming home and culture editor.
Timbol was the ninth child of Congressman Benito Soliven and Pelagia Villaflor Soliven, and the youngest sister of journalist and Philippine Star founder Maximo V. Soliven.
She finished high school and two years of college at St. Theresa's College in Manila. She went on to finish an AB English and Child Psychology degree at the College of Mount Saint Vincent in New York City, on a Knights of Columbus scholarship.
Later she married Sixto Knapp Timbol and they had four children – Elizabeth, Alex, Peter, and Dabbie.
When Ethel was appointed Manila Bulletin's lifestyle editor in 1976, she collaborated with Deedee Sytangco on a column advocating consumer rights, titled 'Consumer's Post.' The regular column tackled consumer issues, complaints, and other issues that needed attention and action. She received a special citation in 1990 from the Manila Rotary Club for her consumer advocacy work.
Another of Timbol's columns in Manila Bulletin was 'Pacesetters,' which chronicled high-society events, including party scenes, cultural events, and fashion scenes. The twice-weekly column was Ethel's way of spreading awareness about the local arts and culture, being a patron and lover of the arts herself.
She was known to be a 'dragon lady' in the industry because of her feistiness and for being a stickler for good writing and professionalism. Hers was "among the strongest journalistic voices, especially in the lifestyle circle," wrote Manila Bulletin's AA Patawaran. Ethel's niece Sara Soliven wrote about her, "she was the pioneer of the lifestyle pages in the country. She was very sharp, meticulous, and outspoken."
Ethel Timbol died in her sleep at the age of 80. Among her unforgettable traits was her sharp wit. She once said: "I always mean what I say when I say it. That may change later."
Throughout her journalism career, she inspired both awe (among colleagues and admirers) and fear (among clueless public relations practitioners), but she could also be a very kind person, a quality that endeared her to close friends and loved ones, but was often overshadowed by her dragon lady persona.
Ethel's daughter Elizabeth wrote about her "amazing, beautiful mom" in a memorial tribute: "Mom's constant reminder to me, more so in recent months, was to choose to show love to others. And to choose to forgive… Maybe some of that love will rub off on them."