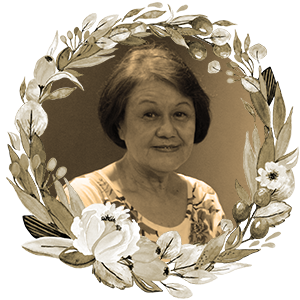 Educator and Visual Artist
May 2, 1946 – April 26, 2021
Rhoda C. Recto was a visual artist and an educator at the University of Santo Tomas (UST) Manila, working primarily in printmaking and watercolors.
An avid printmaker, she was an active member of the Philippine Association of Printmakers (PAP) since its start in 1968, and played a part in the PAP's numerous exhibitions at the Cultural Center of the Philippines (CCP). Recto was part of its 50th anniversary exhibition entitled Tirada (2018). Curator Patrick Flores said the monumental work Tirada addressed the role and value of printmaking as a medium.
One of Recto's etchings was part of the art exhibit "Of Art and Wine," the Hotel Conrad Manila's long-running art series that in March 2022 featured the works of Association of Pinoyprintmakers (AP) in cooperation with the CCP.
To create her innovative work "Mind My Space," Recto used the protruding ends of flat sheet rubber to apply ink onto an acrylic-colored textile.
She later contributed some of her collagraph prints to the CCP Visual Arts Collection and the 20/30 I and II Limited Edition Print Portfolio of the CCP.
As a watercolorist, Recto's works in the letras y figuras genre was exhibited along with the works of 14 other women artists at the High Spirit Art Exhibit in 2013. Held at the CCP, the exhibit was part of the centennial anniversary celebration of College of the Holy Spirit, Mendiola, Manila. Recto's works were interpretations of the poems on Batangas and Quezon landscapes written by nationalist statesman Claro M. Recto.
A dedicated Thomasian, Recto served as president of the UST Atelier Alumni Association from 1992 to 1994, and the director of the UST Alumni Association Inc. from 1992 to 1995.
She taught for years at the UST College of Fine Arts and Design and the UST Graduate School as an associate professor, and continued to teach young artists even after her retirement.
One of Rhoda Recto's students, Cindy Perez Belleza, wrote, "My sincerest condolences to the Recto family. I will always remember you as my professor with the sweetest demeanor!"
Artist, writer and book creator Ige Ramos looked up to her. Rhoda Recto was his most favorite professor in UST because he had learned so much from her. and because she was very compassionate and nurturing.
Gemma Mendoza wrote: "Remembering Ma'am Rhoda Recto's quiet elegance and gentle spirit, cool and raring to try new things, fashionista, ever composed, and [she] did not let anything get in the way of goodwill and friendship. Paalam, Ma'am Rhoda! Maraming salamat for the wisdom and the warm memories."