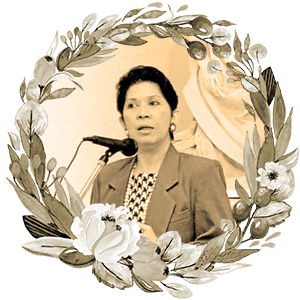 Philippine Art Advocate, Writer
March 19, 1938 – August 1, 2021
Rita Kalaw Ledesma was a Philippine art advocate and writer who centered her life around art, culture, service, faith, and family.
Born in Manila to Rafael Ledesma and Philippine visual arts leader Purita Kalaw-Ledesma, she was raised in Silay City. The young Rita was exposed to the arts from an early age, her mother being the founder-president of the Art Association of the Philippines (AAP).
Ledesma obtained her bachelor's degree from the University of the Philippines in 1958 and her postgraduate degree from Radcliffe College in the United States in 1960.
Her passion and artistic experiences led her to be a director, then president, of AAP in the 1970s.
In 1990, Ledesma chaired the cultural committee of the Alliance Francaise in Manila. She also served as the president of the Metropolitan Museum of Manila (MET) from 1993 to 1997, and as vice-chair from 1997 to 2001.
In a tribute, MET wrote that under Ledesma's leadership, "the Museum broadened its capacity for exhibition and museum programming, undertaking the first major renovations that saw the expansion of the Upper Galleries as well as the construction of the Basement Galleries."
Ledesma also paved the way for the landmark MET exhibitions "And They Will Come Afar: 2000 Years of Vatican Treasures" (1994) and the exhibition of the Bangko Sentral ng Pilipinas permanent collection of pre-colonial gold and pottery (1996 to 2015).
Museum President Tina Colayco said Ledesma "remained committed and unwavering in her support of the Museum and the art and cultural community to the very end."
Colayco added: "She will be greatly missed. In her honor, the MET will carry on her legacy and passion."
Ledesma was also a member of Friends of the Cultural Center, Manila from 1990 to 1994, benefit chairperson of the Manila Symphony Society in 1972, Art Association of the Philippines in 1979, Bamboo Organ Festival in 1980, and board director of the Friends of the Cultural Center of the Philippines from 1995 to 1998.
About her commitment to volunteer work, Ledesma wrote in a 2016 article: "Having been a volunteer for six decades, I have strong personal feelings for this beautiful culture of kindness. It awakens a latent magnanimity through sheer involvement in something greater than oneself. With imagination and style, dedication, and lots of work, it also creates friendships, fulfillment, and inexplicable joy."
In 2018, she edited "Betsy Westendorp," a two-volume coffee book on the Spanish-Filipino artist, which was published by the De La Salle University Publishing House.
Ledesma wrote extensively about Philippine art, history, and culture. Her writings appeared in the Philippine Daily Inquirer Lifestyle section from 2013 to 2016.
For her contributions to the field of Philippine arts and culture, Ledesma received the Chevalier de L'ordre des Arts et des Lettres from the French government in 1980.
Ledesma passed away at 83. She is survived by four children from her marriage to Leonides Gonzalez: Victoria Regina, Jose Ernesto, Alessandra, and Leo.
Current MET Vice-Chairman Doris Magsaysay described Ledesma's passion for art and culture as "infectious."
In 2020, Ledesma spoke to writer Chit Roces about the peace she had achieved in her life as a senior citizen amid the quarantine: "After 82 years of failed and fulfilled dreams, I have learned that the only way to live is by enhancing my inner life. Will the lockdown end or be extended indefinitely? It doesn't matter to me. What matters is that my journey to the Light be peaceful, stable, and beautiful. And that goal, I can achieve."