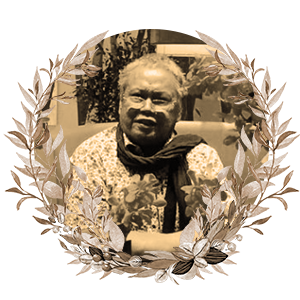 Journalist, editor, scriptwriter
January 29 1948 – November 26, 2020
Francisco "Iskho" F. Lopez was a prolific writer, editor, and scriptwriter.
Lopez graduated from the University of the Philippines Diliman in 1964 with a degree in humanities, and was a frequent contributor to The Philippine Collegian, UP Diliman's official weekly student publication.
A true writer at heart, he went on to write screenplays for at least 13 films, including the notable classics "Ang Pinakamagandang Hayop sa Balat ng Lupa," "Pagputi ng Uwak… Pag-itim ng Tagak," and "Reputasyon," among others. He also wrote and edited for television, newspapers, and other publications, and was a columnist for the iconic Jingle magazine.
In 1984, Lopez and his friends created the coffee house Kape Talismo. This coffee house became the place to meet for creatives, writers, and big names alike. Celebrity chefs were frequently featured there. It was a place to hang out and meet like-minded people, all under the heavy and oppressive aura of Martial Law.
A man with strong opinions, an eye for entertainment, and a flair for the latest scoop, Lopez found himself slipping easily into the newsrooms of the Manila Times, the Manila Chronicle, and the Manila Standard during his lifetime. He was the desk editor of the Times, and the Entertainment editor for the Chronicle and Standard.
Lopez joined the late President Benigno Aquino III's campaign for president in 2010, and headed the Malacañang press office as the chief editor of the presidential news desk. He also served under former President Gloria Macapagal Arroyo.
Lopez was also a member of SEED (the Society of Entertainment Editors), which is now known as the Society of Philippine Entertainment Editors (SPEED).
In 2016, he suffered a stroke and was taken by friends to Anawim Lay Missions Foundations Inc., a facility for elderly people in Rizal where he would live out the rest of his days.
Well loved by friends and well respected in the writing community, Lopez passed away peacefully in the early morning of November 26, 2020. He was 72 years old.
His friends write that he had a wealth of knowledge about showbiz, politics, and the media,and was helpful to those who approached him. Angela Stuart Santiago wrote, "He had quite a network, and he seemed to know everyone worth knowing…he was such a part of my writing life."
According to Katrina Stuart Santiago, "Tito Iskho was my go-to for anything that was media-related, whether for political stuff, or showbiz. We'd run into each other at media events, and he'd always end up sitting with me, and expectedly, we'd start talking in whispers, and cackling. There are so many stories to tell…you will not be forgotten."