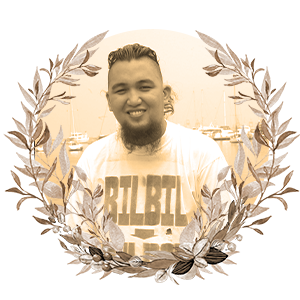 Independent Filmmaker, Screenwriter, Actor, and Director
June 7, 1975 – January 3, 2022
For Sigfreid, or Direk Sig, independent filmmaking freed him as an artist and helped him create films that would, hopefully, free others. He believed that we are all artists. He advised us not to let go of that creative feeling, reintroduce ourselves to art, and always find time for it.
On June 7, 1975, Sigfreid Barros-Sanchez was born at the Mary Johnston Hospital in Tondo, Manila where his grandmother worked as a nurse. He was the second of six children of public schoolteacher Elizabeth Grace Barros and Eduardo Sanchez Jr. He was raised in a family of artists and writers in San Andres, Manila.
Sig graduated from the nearby Rafael Palma Elementary School, where he first became part of the school publication. Like his eldest brother Sigmund, he later studied at the Philippine Christian University Union High School of Manila where he continued writing articles and cartooning for the school paper.
Sigfreid almost did not become a writer when he grew to six feet, four inches in his teen years. He was taking political science that time at the University of the East (UE) upon the wish of his grandfather-lawyer who also studied and even taught at UE. Sig tried out for a slot on the school's basketball varsity team due to his height. However, a short story he read in UE's student publication inspired him to return to writing.
At 16, Sigfreid started contributing articles and artworks to Rock & Rhythm magazine. It was the height of the Pinoy alternative band scene, back when Club Dredd in Cubao, Quezon City and Mayrics Bar in España, Manila were still in existence. As a staunch supporter of Pinoy punk rock, he would later add elements of it into his films.
Sigfreid's love for movies grew when he was young. He used to watch black-and-white films produced by LVN and Sampaguita Pictures, Pinoy Westerns, action movies, and comedies shown on TV during the early 90s. In college, he watched short films from Mowelfund. His college professor acted in Jon Red's "Trip." Rox Lee's "Tito's Wedding" was also unforgettable for him. He was already familiar with Rox's comic strip "Cesar Asar" and his other works.
In 1999, he left UE to learn more about filmmaking as part of Ricky Lee's 11th Scriptwriting Workshop. He also attended film workshops under the late director Marilou Diaz-Abaya in Ateneo and filmmakers Tikoy Aguiluz and Raymond Red at the University of the Philippines. He had Topel Lee as one of his classmates in the workshop.
Topel introduced him to directing music videos, where Sig merged his love for films and music. They co-directed Sugarfree's "Hari ng Sablay," which won Best Music Video at the 18th Awit Awards. He later helmed music videos for Hale, Parokya ni Edgar, Kyla, Stonefree, and Datu's Tribe, among others.
When Sigfreid started working on "Lasponggols" for the first Cinemalaya Philippine Independent Film Festival in 2005, he made sure that his idols Jon Red and Rox Lee would be part of his own dark comedy, along with two actors they usually cast in their films – Raul Morit and Soliman Cruz, who were also his favorites.
Sigfreid then directed nine other independent films, including two other features which, together with "Lasponggols," made up his trilogy of films about films – "Ang Mga Kidnaper ni Ronnie Lazaro" and "Huling Biyahe," both award-winners at the Sineng Pambansa National Film Festival in 2012.
He wrote and directed "Ang Anak ni Brocka" for the first Cinema One Originals in 2005, "Ang Gitaristang Hindi Marunong Magskala" for the Cine Totoo Documentary Festival in 2014, and "We Will Never Play in Manila Again!" for CineFilipino Film Festival in 2016. He also directed "Tsardyer" for Cinema One Originals and "In Bangka Ha Ut Sin Duwa Sapah" (The Boat Between Two Rivers) for Sineng Pambansa.
His last film, "Magtanggol," won the Special Jury Prize for Social Change at the European-Philippine Film Festival in Italy and the Audience Choice Award at the International Film Festival Manhattan in New York in 2016. He wrote "Baklad" for Topel's ToFarm Film Festival entry and went back to advertising in 2017.
Despite his towering height and built, he was a gentle giant. Sigfreid paid it forward by offering his talents and equipment to aspiring filmmakers. He conducted film workshops and became a speaker at film events. He screened his films for free and opened his film sets to observers. He encouraged and inspired many young filmmakers to take that extra bold step to reach and even surpass the feats that they have achieved.
He also supported an important health advocacy. One of the campaigns of the patient advocacy group Psoriasis Philippines (PsorPhil) was Sigfreid's brainchild. PsorPhil founder and president Josef De Guzman said, "Perhaps the most successful campaign of PsorPhil to date is the "Hug Me" Campaign. It was so successful that it reached different parts of the globe and was used by other national psoriasis organizations to prove that psoriasis is NOT contagious."
Sigfreid was only 46 when he died of stroke, kidney disease, and other complications at the Philippine Heart Center, Quezon City He is survived by his wife Kaye, sons Basti, Kobe, Kubrick, and Seth, younger siblings Seymour, Sylvester, Margaux, and Sean, and screenplays that he was not able to turn into films.
Filmmaking was something both therapeutic and addicting for him. Once he got hooked into it, he kept on talking about it and working on his films. Not even his debilitating health condition prevented him from delivering a talk and writing a screenplay or two. Many would remember him for his passion.
"[In] these films, Barros-Sanchez [made] references to aspects of Filipino popular culture, taking note also that in his fiction films, he portrayed the lives of the lowly workers in the industry – the clapper, the utility driver, the reporter, the dubber… [these] have afforded him a unique voice in Philippine independent cinema, [and] no one can come close," FACINE founder and artistic director Mauro Feria Tumbocon Jr. said.
Writer Marra Lanot described his filmography in her tribute: "Sigfreid Barros Sanchez produced films which are raw and rich, celebrating those in the 'laylayan' of the movie industry. He didn't follow acceptable aesthetics to impress and win awards. He followed his heart, blending harsh reality with wit and the comic, something only a genius can do. His untimely demise is a huge loss to Philippine cinema."