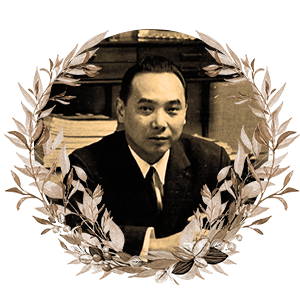 Ambassador, Luxury Retail Pioneer, and Art Patron
April 7, 1921 – July 6, 2021
In an interview with veteran journalist Eric S. Caruncho for his birth centenary in April 2021, Bienvenido Rufino Tantoco Sr. distilled all of his success into two basic things—persistence and relevance: "Enthusiasm will bring you far, but you have to match it with persistence."
The Father of Philippine Luxury Retail also said: "Through the years, I have always been on the lookout for something new, what is relevant, what will sell. This is not just about enterprise. It is about living one's life. One should always be relevant and useful. You become useless and that is the end for you. You refuse to do better, you refuse to adapt, and that is as good as saying goodbye."
He was born in Malolos, Bulacan, the son of Luis Buendia Tantoco, a farmer, fisherman, and trader, and Carmen Fabella Rufino, a pianist and music teacher fondly called 'Maestra Mameng' by her students and the rest of the town.
Benny's upbringing was more or less a life mixed with privilege and constant struggle—and one that instilled deep in him the value for work. This work ethic is something that he also cultivated in the succeeding generations of Tantocos who are now overseers of the business empire he and his wife Glecy built.
He worked to be able to finish college—landing a part-time job with his mother's cousin Ernesto Rufino who was in the theater business, while another one of his mother's cousins, Vicente Fabella, agreed to grant him a full scholarship to the family-owned Jose Rizal University, where he graduated with a bachelor's degree in commerce, major in accounting, in 1941.
By then, Benny, who was managing a movie theater for his uncle, was already married to the young and enterprising Gliceria Rustia. Benny continued to work in the theater business while Glecy began the retail enterprise from the living room of their house along San Marcelino Street in Ermita, Manila. He later quit his job and set up their store that they named
'Rustan's' — a portmanteau of their surnames, Rustia and Tantoco.
Rustan's soon became the pioneering force at the forefront of fashion and luxury in the country, especially through licensing.
Tantoco was later appointed Ambassador to the Vatican and served from 1983 to 1986. As a diplomat, he was at the forefront of efforts initiated by his predecessors that led to the beatification and then canonization of St. Lorenzo Ruiz. He campaigned for it tirelessly during his tenure.
He was decorated with the Order of Merit of the Republic of Italy, rank of Commander, the highest award given by the Republic of Italy to a non-Italian. He was also conferred the Grand Cross pro Merito Melitensi by The Chancellor of the Sovereign Military Order of St. John of Jerusalem. He was also awarded the Sovereign Military Orders of Saint John, Rhodes, and Malta.
To the very end, he remained the astute businessman known for his honesty. "Honesty is still the best policy, whether one is transacting business or dealing with one's loved ones," he once said.
Tantoco also recognized the need for sharing his fortune with meaningful bequests to education, culture, and the arts—particularly through the Tantoco-Rustia Foundation. He emphasized education in his philanthropic activities, helping the schools he attended in Bulacan, and empowering public school teachers through graduate education.
He passed away three months after celebrating his 100th birthday, leaving six children—Bienvenido Jr., Zenaida "Nedy" Tantoco, Menchu Lopez, Marilen Tantoco, Merl Pineda, and Tokie Enriquez—as well as 21 grandchildren, 40 great grandchildren, and one great-great-grandchild. (His wife Glecy predeceased him in 1994.)
Asked to define her father's personal legacy, daughter Nedy summed it up with a trait that's a perfect combination of what he stood for—persistence and relevance: "My father stood for constant renewal. It is what has made Rustan's strong and it is what has kept us, his family, going."