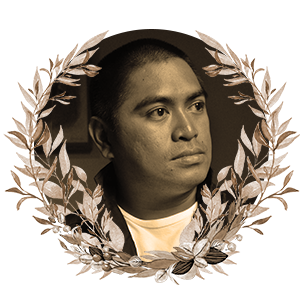 CCP Thirteen Artists Awardee, Sculptor, Curator, and Respected Critic of the Arts Market
September 9, 1976 – August 4, 2021
Riel once said, "Art is my religion, and I am a priest of that faith."
Born in Vigan, Ilocos Sur, Ronald "Riel" Jaramillo Hilario came from a family of traditional furniture makers and woodcarvers. He grew up in Cubao, Quezon City, and moved to Laguna when he was accepted into the visual arts program of the Philippine High School for the Arts (PHSA). In his teen years, he also received training in Santo-making under his uncle Jose Lazo in San Vicente, Ilocos Sur. At the University of the Philippines, he studied painting and art history.
From Riel's first one-man show in 1996 up until 2001, he exhibited paintings and drawings. Come 2002, he gave more attention to wood carving and the tradition of rebulto-making that his family in Ilocos was known for.
Riel revealed in an interview with travel blogger Glenn Martinez, "There were a number of factors that made me shift my focus [to] sculpture, especially wood carving as my main practice. But there are two major ones I can cite.
"First, I had several encouragements [sic] from peers, my teachers, and from collectors as my initial attempts to do wood sculpture were received well. Roberto Feleo directed me to research rebulto-making in Ilocos Sur in my senior year at PHSA. I had a few forays into wood carving, but it was only in 2001 that I showed my first series at Pinto Art Museum, to be followed by a solo of freestanding works at Boston Gallery in 2005.
"Second, it served as my self-directed therapy … I had schizoid visions and dreams that were terrifying and disturbing. I felt the need to find an outlet that was more tactile than painting or writing. The following year I started carving wood sculptures based on the tradition of the rebulto, but following the urgings and suggestions of my visions. The practice had a cathartic effect, and also helped me refocus my cultural work to do research on the craft."
Equipped with lessons from his mentor, the independent curator Roberto "Bobi" Valenzuela, Riel worked as a curator for Boston Gallery in Quezon City and Pinto Art Museum in Antipolo City for a number of years. He also served as secretary of the National Committee on Art Galleries of the National Commission for Culture and the Arts, under the leadership of Sid Hildawa.
He also became part of the Sungdu-an 3 National Travelling Exhibit with his collection of works entitled "Iconologia" (2003), which toured several art spaces in the country, including the Cultural Center of the Philippines (CCP). He then co-founded the educational program called Art Informal in 2004.
Riel went full-time into sculpture in 2008, and presented his series "Aniwaas" at Art Informal after a year. From 2010-2011, he had "Bario Balasan" at Art Informal, while "If an Apostle Looks In No Monkey can Look Out" and "Astral Projections" were presented at The Drawing Room Contemporary Art in Makati City.
He was one of the ten winners of the 2011 Manila Art Awards of the Philip Morris Philippine Art Awards. His rebultos, installations, and other works have graced shows and art fairs abroad, namely in Singapore (ArtStage 2011 and 2012) Hong Kong (HKArt 11), Delhi (India Art Summit '11), London (Stories of Dreams and Realities, Rossi & Rossi Gallery), Basel (Scope Basel 2011), and Jakarta (Lintas, Edwin Gallery, 2011).
Architect Cesar Aljama said, "I can still remember how I was immediately struck by his artwork, 'Namongan: The Conception of Lam-Ang,' the first time I chanced upon it on display at the dining hall of Sitio Remedios Heritage Village in Currimao, Ilocos Norte… There was something in the rebulto, depicting the conception of the Ilocano mythical warrior-hero Lam-Ang, that evoked religious undertones and indigenous mysticism of a vintage santo.
"I stood in front of it for quite a while to admire the austere gracefulness of the polychromed wooden sculpture with intricate curvilinear designs from nature delicately carved on it. I could just imagine the passion that went into the creation… I could tell the artist was exceptionally intense."
Riel also dabbled in writing about Philippine contemporary artists. His biographical essays were included in the book Without Walls (2011) by Winrum Publishing.
The year 2012 was a highlight in his career. He became one of the recipients of the 2012 Ateneo Art Awards, and was among the eight national winners of the Philippine Art Award. Riel was the artist-in-residence in Paris at the 2012 Cite Internationale des Arts, through the Philippine Artist Residency Program of Alliance Francaise de Manile. The CCP recognized his hard work and unique talent by naming him one of the recipients of the Thirteen Artists Award.
Then he went to New York for a residency sponsored by the Lower Manhattan Cultural Council, and to Malaysia courtesy of the Asian Cultural Council (ACC). He held solo exhibitions there through these opportunities. He was later named Elizabeth McCormack and Jerome Aaron Fellow with regards to his ACC grant.
This multi-talented artist continued to work with wood, found objects, metal, paper, canvas, and other materials to produce art that was described as ageless contemporary sculpture of an antique aesthetic, mythical and surreal images straight out of a religious-folk experience. He presented them in solo and group exhibits in the local and international art scene.
He also continued to accept residencies in various parts of the globe, such as Nanji, Seoul, South Korea and Amsterdam, Netherlands. He augmented his knowledge by attending international conferences on museum work, gallery work, and curatorial work.
With more than 20 years of experience as an artist and curator, he advocated for the rights of Filipino artists. He used social media to showcase his latest carvings, sketches, and projects, but it was also a space where he shared ideas on the Philippine art market and business models for art venues that are just and fair, especially for Filipino creators.
During the COVID crisis, he regularly posted a series of portraits in graphite on paper on social media. It featured friends, mentors, and Filipino artists, with captions that expressed his gratitude to the subject of his art. On August 5, 2021, his life was claimed by COVID-19. He was 44.
At the time of his passing, Riel was preparing for the Philippine's 'Bangkota' Pavilion for the upcoming Expo 2020 Dubai. He created human bird hybrids called 'Limokon' and 'Timamanukin' for this event. His curator for the pavilion, Marian Pastor Roces, said, "I'd like to think that after his sudden passage to the afterlife a few hours ago, indeed to becoming avian-human himself, Riel flies free."