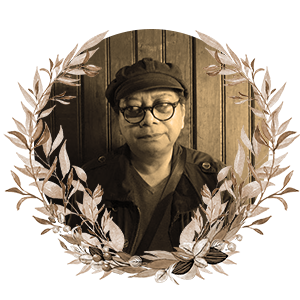 Painter, Editorial Cartoonist, Activist, and Educator
1990 CCP Gawad para sa Sining Biswal and Thirteen Artists Award
December 1, 1957 – July 16, 2021
He was an artist who delved into the issues of the day, from the dictatorship to land tenure, from dehumanizing labor practices to militarization in rural areas, from displaced families to pandemic response. In his depictions of them, he foregrounded the vitality of the Filipino spirit.
Leonilo Ortega Doloricon, 'Neil' to family and friends, was a visual artist (a painter, a printmaker, and an editorial cartoonist) and an educator, and as both he led a life of activism that shaped what he created and what he taught.
He was born in Esperanza, Agusan del Sur to Tomas Estrada Doloricon and Genoveva Ortega Doloricon. He attended high school at the Philippine College of Arts and Trade (PCAT, now Technological University of the Philippines).
In 1974, he graduated with a Bachelor of Fine Arts degree majoring in visual communication from the University of the Philippines in Diliman. In 1976, he and other artists banded together to form Kaisahan (Solidarity), which they organized to put up political resistance through art and to forge a national identity while also depicting the true conditions of society.
After graduating from UP, he immersed himself in the nationalist labor movement, which deeply influenced the nature of his art. In 1983, he co-founded the Concerned Artists of the Philippines (CAP), which helped organize opposition against the dictatorship, and began mobilizing campaigns against it. In 2011, he became CAP's general secretary, and chairperson in 2017. He was named chairperson emeritus at the end of his term in May 2021.
Post-graduation, he worked as an illustrator for various dailies, eventually becoming well-known for his editorial cartooning. "I love cartooning, but it was not my intention to be a cartoonist," Doloricon once admitted. The dream was to pursue painting full-time, but too few people took interest in purchasing social realist paintings.
He eventually requested his editor at the time to allow him the autonomy to make cartoons based on his own opinions. He once said: "My attitude towards doing editorial cartoons is to be critical in all issues."
Doloricon's first run was with the opposition paper Observer in 1987. Two years later, he was hired as a part-time cartoonist at the Manila Times where he stayed for ten years. He went on to do freelance work for People's Journal, Kabayan, and others. He then took a break from political cartooning, but finally joined Malaya Business Insight in 2016, where President Duterte served as a frequent subject of his political cartoons. Doloricon was also the managing editor of alternative newspaper Pinoy Weekly.
He earned an MA Philippine Studies degree from UP and taught at its College of Fine Arts, serving as Dean from 1998 to 2001. At the time, he told the Philippine Collegian not only of his plans for the college but of art in general, how it is useful as an instrument in defining us as a people and as a culture, especially when combined with nationalism. He remained one of the senior professors of the college until his demise.
In his service to the university, he received the Fernando Amorsolo Professorial Chair in 1994 and 2011, the Jose and Asuncion Joya Professorial Chair in 1999, and the Guillermo Tolentino Professorial Chair in 2004. Doloricon also chaired the Committee on Arts and Humanities of the Commission on Higher Education.
Doloricon exhibited widely throughout the country and abroad, and had shows in Berlin, Moscow, New York, Kuala Lumpur, Tokyo, San Diego, and other places. As one of the forerunners of social realism in Philippine art, he is well-cited in various publications of art critics and art historians on the Philippine arts scene.
In 2017, the National Museum hosted his solo exhibition, A Gift to the Nation, which featured 50 limited edition prints that he donated to the museum, embracing three decades of his work since 1987, using different printmaking techniques like woodblock, linocut, rubbercut, and lithograph.
In 2018, he exhibited Tirada: 50 Years of Philippine Printmaking 1968-2018 at the Cultural Center of the Philippines, showcasing lithographs, linocuts, and other works he made while an artist-in-residence at Kasterlee, Belgium in 2015; and at the Fukuoka Asian Art Museum with Blaze Carved in Darkness: Woodcut Movements in Asia, 1930s-2010s.
Doloricon received many awards and recognitions. In 1990, the CCP awarded him the Gawad para sa Sining Biswal as well as the prestigious Thirteen Artists Award. He would later serve as juror of the latter in 2018. He was given the Patnubay ng Sining at Kalinangan Award by the City of Manila in 2013.
Doloricon once said in an interview with the Erehwon Center of the Arts: "My art activism and activist art are life-long struggles to make life for myself and many others free and alive on paper, canvas, print, as well as in the real humane world."