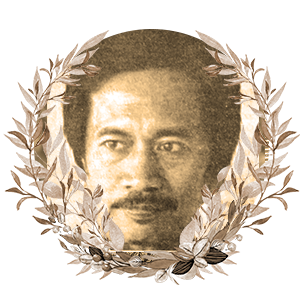 Watercolorist, Multi-awarded Artist, and Pioneer Overseas Filipino Worker
April 19, 1935 – May 24, 2021
Leon P. Pacunayen, also known as Leon, Ka Leon, and Lolo Leon, was a master watercolorist, multi-awarded painter, and pioneer overseas Filipino worker. He received the highest award at the Art Association of the Philippines (AAP) – Philippine Tourist and Travel Association National Art Competition in 1959, second prize at the AAP Excursion Art Competition in 1960, the Primo Concorso Internazionale di Pittura Mazzano Romano in 1966, the Premio Montecompatri in 1967, and the Premio Republica di San Marino in 1968.
Born to Paulino and Valentina Pacunayen in Aliaga, Nueva Ecija, he studied at V. Mapa High School in Manila and obtained a degree in Fine Arts from the University of Santo Tomas (UST) College of Architecture and Fine Arts in 1957.
After garnering the top prize from AAP in 1959, he received a scholarship in 1960 from the Italian government for further studies in painting and sculpture at the Accademia di Belle Arti di Roma, while an Andres Soriano Travel Grant supported his foreign trip.
Throughout the 1960s, Pacunayen joined various art competitions held in Rome, Milan, Tuscany, and other Italian cities where he received nine first, nine second, and seven third prizes; 11 gold, nine silver, and seven bronze. The last award he received along with other Filipino cultural icons in Italy was given by the Philippine Embassy in Rome in 2013 "in recognition of their valuable artistic contribution in elevating Filipino identity as well as highlighting the unique contribution of Philippine culture and arts in Italy."
Aside from traveling all over Europe, he continued his advanced studies in etching, ceramics, and art restoration in various Italian academies like the Istituto Ornamentale di San Giacomo and Scuola Libera del Nudo.
Since his first show at the Philippine Art Gallery (PAG) in 1959, he held a number of solo exhibitions in Rome and other parts of Italy, California, and the Philippines, mostly at the Luz Gallery. He participated in group exhibitions all over Italy; Philippine-Italian art exhibitions in Manila; shows of the AAP, Contemporary Artist Club, PAG, and Museum of Philippine Art; and international exhibitions, including the First Southeast Asian Art Competition, 1957; Chicago International Fair, 1958; First International Art Exhibition, Legione Azzura, Rome, 1962; and the Troisieme and Quatrieme Biennales in Paris, France. In 2014, Pacunayen held a solo show titled Buhay Ciudad (City Life) at the Finale Art File booth, Manila Art Fair.
Recognized as one of the country's leading masters of watercolor, Pacunayen's landscapes, seascapes, urban and rural landscapes, churches, and human faces emerge as images from a dream. Lyd Arguilla, PAG's founder, described Pacunayen's visual creations thus: "Mountains, clouds, and skies are treated in terms of mass, weight, and space. Using the wet technique, the artist depicts mountains that hug the earth, skies that are open, and clouds that float."
Like the proverbial hardworking Filipino, Pacunayen taught at the Colegio de San Juan de Letran and the UST CAFA while producing works for exhibitions. When he migrated to Italy in his 30s, he worked as a scenic artist for the famous movie director and producer Dino De Laurentiis in 1964. He continued under Ferdinand Bellan, one of the greatest film scenographers (now called production designers).
Pacunayen married his Italian sweetheart, settled in Perugia in Northern Italy, and grew his family blessed with two daughters and grandchildren. He maintained his connection to his roots by actively supporting Filipino culture like the promotion of the Kali Filipino Evolution Academy in Perugia. He participated in sporting events for the local and Filipino community like golf tournaments at the Antognolla Golf Club and also won at the FAO-Philippine Embassy Bowling Tournament.
He always lugged a camera around, taking photos of friends and relatives. He found an outlet for these photos when at 75, he opened a Facebook account and posted them there, while on his YouTube channel, he posted AVPs of his family, friends, classmates, relatives, and his dreamlike watercolor paintings.
He died at the age of 86 in Italy.
"The one who follows the crowd will usually go no further than the crowd. The one who walks alone is likely to find themselves in places no one has ever been." Pacunayen posted this quote of Albert Einstein's on his FB page when he was 83. Through his life and contributions to the Filipino art scene, he made it to places no Filipino has ever been.