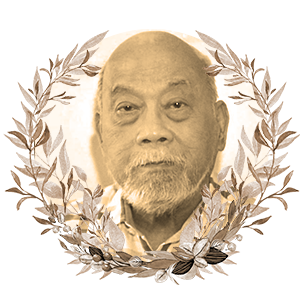 Journalist, former Press Secretary
August 3, 1935 – April 5, 2021
Crispulo Julio Icban Jr., "Jun" to friends, was a veteran newsman and former Press Secretary.
He was born in Tondo, Manila to Crispulo Manansala Icban of Lubao, Pampanga, and Mercedes Villanueva Julio of Pura, Tarlac. He graduated magna cum laude from the University of the Philippines (UP) with a bachelor's degree in English in 1954. While at UP, he was editor-in-chief of the Philippine Collegian from 1953 to 1954. He obtained his MA in Journalism from Syracuse University in New York in 1958 on Fulbright and Smith-Mundt grants. From 1965 to 1966, Icban was a Nieman fellow at Harvard University.
His career in journalism started in 1954 when he joined the Manila Times as an editorial assistant, as a reporter covering the foreign affairs beat, and as editorial writer. He was later named news editor of Manila Times in 1968 up to 1972 when the paper was closed down due to the imposition of martial law. He worked as an editorial consultant at the Manila Bulletin in 1974 and was later named news editor. In 2003, he was appointed editor-in-chief of the Manila Bulletin.
In 2010, Icban was named Press Secretary by President Gloria Macapagal Arroyo. In 2020, he became publisher and editor-in-chief of Manila Bulletin. Icban was also chairman of Samahang Plaridel, an association of Philippine journalists.
He was named one of the most outstanding citizens of Quezon City for his "legacy of courage in Philippine journalism." He was also a recipient of the Most Outstanding Kapampangan Award and was chairman of the Capampangan in Media Inc. His book, Philippine Mass Media in Perspective, is used as a textbook in Philippine communication schools.
Dr. Emilio C. Yap III, president and vice chairman of the Manila Bulletin, said of him: "We have always looked up to him for his guidance in these times of transformation. [We] mourn the loss of a pillar in Philippine journalism."