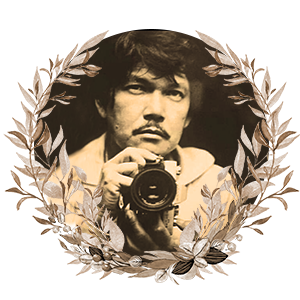 Actor, Choreographer, Television and Stage Director, Visual Artist
November 11, 1933 – October 24, 2020
Al Quinn, born Alcuin Gargaritano Pastrano, was a veteran TV and stage director, dancer, choreographer, actor, and painter. He was among the most noted TV directors and choreographers in the Philippine entertainment industry.
Born in Jaro, Iloilo, he fell in love with dancing and sketching at a young age, influenced by his grandfather who was a painter. Quinn later took up Fine Arts at the University of Santo Tomas and learned painting from the likes of Manansala, Edades, and Ocampo. At night, he took ballet lessons.
He began his career as a dancer in the Manila Grand Opera House in the 1950s, later forming a dance group called "Shirley and the Moderners." Upon seeing the group perform at a fund-raiser, actor Pancho Magalona asked them to do a musical number in one of his films. The actor then asked Alcuin to join the cast of "Maria Went to Town" (1955) as a dancer, suggesting he change his name to "Al Quinn" for the film. It was a screen name that Quinn carried the rest of his life.
Quinn's path towards directing began when he assisted directors in composing shots for his musical sequences. He seemed the ultimate 'lagarista' as he never liked to work exclusively for one company. He moved from live entertainment to the era of the Big Four motion picture companies, commuting between LVN and Premiere Productions.
Among the films Quinn directed and choreographed were "The Good Father" (1974), "Disco Fever" (1978), and "Jack and Jill and John" (1975). He worked with the biggest names in the Philippine entertainment industry such as comedy king Dolphy, TV show host German Moreno, screen icons Pancho Magalona and Tita Duran, award-winning actress Nora Aunor, and other celebrities from the '60s up to the turn of the century.
He was the long-time director of many television specials and live shows including Binibining Pilipinas and Star Awards.
Despite his success in show business, he never forgot his first love, painting, and eventually staged several successful exhibits. In "Take One," he showed works in oil, watercolor, pastel, pen-and-ink, charcoal, and mixed media. "Shadows of Black and White" comprised pen-and-ink drawings. His third, "Quintessential Flow," showcased his Zen fountains of driftwood, limestone, bamboo, jars, and shells. The "Shell and Sundance on a Blessed Shore" series in his 2013 exhibit was inspired by the shells his late father, Anselmo Gomez Pastrano, collected and bequeathed to him.
Speaking to writer Pablo Tariman in an interview in May 2000, Quinn said about painting: "I can actually be engrossed in showbiz and painting all at the same time. When I am on the set, I am very well focused on the camera and what it should capture. I love to compose shots for the camera but then of course there is very little time for that if it's a live show. Come to think of it, it was while seeing through the camera that I learned to compose through the painter's brush. When I am into painting, I am really engrossed."
One of his last directorial jobs was for the 62nd FAMAS Awards at Solaire in July 2014. He migrated to the U.S after that.
He was once married to actress Lani Oteyza whom he met in the movie "Tipin" (1957). They had five children. He later married Beth Pastrano with whom he had a son.
Al Quinn died at the age of 86 in Las Vegas, USA. He will forever be remembered for his talents, achievements, and his humble personality.
Singer Zsa Zsa Padilla wrote: "We will always remember him with fondness. Aside from being a good friend of Dolphy, he helped me, almost everyone in the business. I would always remember him as a jolly person like Santa Claus, also because of his red cheeks. He had a good personality! He is a big loss to us, he will be missed!"
For veteran choreographer Maribeth Bicharra, "He was my mentor, the kindest, coolest and best director I've ever worked with.
"Kahit baguhan ka, hindi ka niya aapakan. He will encourage you and let you shine under his guidance. He was well-loved by everyone on the set, hanggang sa nagtitimpla ng kanyang kape. He was one of us."