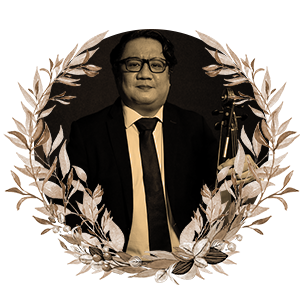 Musician, Educator
March 16, 1984 – August 27, 2021
Maurice Ivan Saraza was a talented and awarded violin and viola musician and teacher who trained abroad and brought back his learnings to benefit students in the Philippines.
Ivan started making music at a very young age. He first studied the violin under the tutelage of his father, Diomedes Saraza, at the age of 6. Three years later, he enrolled at the Philippine Research for Developing Instrumental Soloists (PREDIS) at St. Scholastica's College in Manila, training under Virna Valerio, Arturo Molina, and Prof. Basilio Manalo. He was the youngest member of the Manila Youth Symphony Orchestra that subsequently became Manila Symphony Orchestra II.
At 15, Ivan won first prize in the National Music Competition for Young Artists. He then performed as a solo artist, collaborated with other musicians in chamber music, and played in masterclasses with internationally acclaimed artists.
As a member of the Asian Youth Orchestra from 2002-2004, he toured many places in Asia: Hong Kong, China, Japan, Malaysia, Thailand, Singapore. In 2005, he was one of 18 delegates from Asia-Europe Meeting (ASEM) to participate at the first Asia-Europe music camp, I'mPulse.
Ivan enjoyed full scholarship to Orchestra Programs at MasterWorks Festival in Winona Lake, Indiana, where he became the principal 2nd violin and assistant concertmaster of the festival's orchestra.
He then went to New York for his bachelor's degree in violin performance at Nyack College Manhattan Centre, studying under Gert Kumi and Stephen Clapp, dean emeritus of The Juilliard School. In 2006 and 2009, he received the Best Instrumentalist award.
In 2010, he settled in Singapore as a violin teacher at the Wolfgang Violin Studio, teaching individuals and groups and conducting string ensembles. Many of his students reaped awards and went on to become musicians themselves. In 2019, he returned to the Philippines and joined the MSO as its viola principal. He also taught at the MSO Academy and was a member of the violin/viola faculty at the Philippine Women's University.
His achievements are many and inexhaustible, but these do not solely define Ivan's abbreviated life. When he passed on at the young age of 37, the overflowing messages and tributes pointed to his noble and self-effacing nature. For example, his nine-year teaching stint in Singapore revealed Ivan's deep commitment to help and support his family.
His younger brother Dio, MSO's concertmaster and Manila Symphony Junior Orchestra faculty member, is vocal about his love, gratitude and admiration for his Kuya Ivan. Dio said he was the typical kid brother for whom the word 'kuya' was synonymous to 'Idol.' He always followed his Kuya Ivan everywhere he went. Aware of the nuisance that he was, Dio said Ivan always included him, anyway – even if it was just to heed their mother's admonition to care for his younger brother.
Over the years, it was Ivan who followed Dio to the U.S. to watch over him while the younger Saraza was studying music.
Ivan had many students, but Dio claims he was his brother's first student ever. "You reminded me I can always be better in music and in life. I am where I am because of how hard you pushed me and how strongly you believed in me," Dio wrote in a tribute on social media.
He also reminisced how close they had become especially after their parents' deaths in 2020, and how they would spend time playing their musical instruments, horsing around, and playing Mobile Legends.
Ivan's colleague at the MSO, Sara Maria Gonzales, who has known him since the late 1990s, says Ivan is an inspiration. She saw firsthand his commitment to teach, his kindness to everyone around him, and his devotion to his family, especially to his younger brother.
Students at the MSO Academy talk about how Ivan was a caring and assiduous teacher even after the pandemic forced them to take their lessons online. He encouraged his students to push harder, join competitions, and believe in themselves even if they were having doubts about their capabilities as musicians.
Ivan will be remembered as a world-class musician, a passionate soloist, an inspiring mentor – but most of all a kind, humble, gentle soul. "Legends never die," said Dio of his kuya. And indeed, they never do.