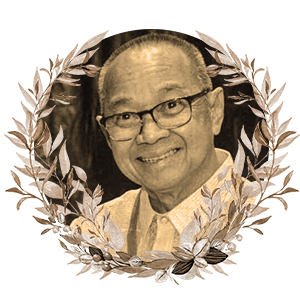 Recipient of CCP's PILAK Award for Outstanding Work in Community Art and Culture, Teacher and Cultural Champion
October 28, 1950 – April 17, 2021
Eduardo Villena Borbon, known to most as 'Ed,' started out as a seminarian, but decided to pursue another path and eventually found fulfillment in teaching and in enriching the culture and history of his hometown Batangas City.
He lived in Manila in the early part of his career. He was a teacher, director, and choreographer, putting together shows, plays and concerts for various schools, corporate presentations, and even kundiman musical concerts at the Cultural Center of the Philippines.
In 1988, Borbon decided to resettle in his home province. He was appointed by the late Mayor Eduardo Dimacuha as vice chairman of the Batangas City Cultural Affairs Committee (CAC). From then on, Ed became a major force in shaping Batangas City's culture and history and passing these down to the younger generation of Batangueños. He became chief of the city's Tourism Office. He was also founder and director of Cristo Rey Institute for Career Development, a technical vocational institution in Batangas City.
One of Ed's first and most impactful contributions was his recommendation to launch the Sublian Festival, the main feature of which is the subli dance, a performance of worship consisting of songs, verse prayers, and dances. It is also an homage to the Poong Sto. Niño and the Poong Sta. Cruz.
The festival was eventually included in the calendar of events of the National Commission for Culture and the Arts and won in the 2020 Philippine Live Entertainment, Arts and Festivals. It was performed at the Smithsonian Folklife Festival at the Smithsonian Institute in Washington, DC, United States where Borbon was one of the presenters for the Philippine delegation.
Other traditions he helped popularize in the present times were the harana (courtship serenade), Rosario Cantada (sung rosary), and the commemoration of the heroism of Apolinario Mabini, a fellow Batangueño.
As a result of Borbon's efforts, Batangas City became the Regional Cultural Center. The city's cultural groups were invited to perform at national and international events.
In 2004, Borbon and Mayor Dimacuha received the CCP's PILAK Award for their outstanding work in community art and culture. In 2019, Borbon was named one of Batangas City's Gawad Gintong Duyan Awardees in culture and the arts.
But Borbon's legacy is most felt through the words of his students, mentees, colleagues, and family.
Ed was simply "Eddieboy" to his immediate family and those who knew him from childhood. His sister Marita Borbon Holgado best remembers him for the greeting cards he made for her when they were children – even though it was not her birthday. And just as he worked hard to preserve Batangueño culture, so did Ed do his best to keep their family together, especially after the death of their parents. He was always there for her, she said. Sister-in-law Menchie Borbon called him "love personified," the cohesive factor that bound the family together.
Having no children of his own, Ed doted on his nieces and nephews. All grown and professional now, they have fond memories of their childhood with their dear Tito Ed. Nephew Carlo said Ed worked hard to trace their family tree and organized reunions to keep the family close over the years. He remembers lining up at Christmas to get gifts from his Tito Ed. When Carlo's wife became pregnant, his Tito Ed also spoiled his wife, saying that the baby would carry the Borbon name.
Another nephew, Jackie Holgado, said one could immediately sense Ed's genuine kindness. At the same time, the family regarded Ed as their very own Renaissance Man for his innate interest in and love of culture. Case in point – when the family was having breakfast during a trip to Bangkok, Ed rushed out of the hotel upon hearing drumbeats, thinking it was a festival. He returned laughing at himself – the sounds came from a funeral procession.
Nephew Chester said Ed was brilliant – someone to talk to when one wanted to talk about history, literature, and culture. But he was also a cool uncle, known for his generosity at Christmastime. Another nephew, Chino, likened him to Santa Claus and remembers receiving from him a game console that he wanted badly. Ed regaled the children of the family with stories from the Bible, about their grandparents, and the history of their province.
Marvi Holgado Galicia, a niece, said Ed was loving not only to the nephews and nieces, but also to the grandnephews and grandnieces. He made each one of them feel like they were his favorite. She specifically remembers him being the one who taught her to tell time from an analog clock, and who helped her with her homework. He was, most of all, her prayer warrior, not to mention the planner and organizer of the most significant events of her life.
Another niece, Aileen Borbon Untalan, recalled her Tito Ed as always making sure she participated in cultural events at school, being very patient with her even though she did not feel she had courage or talent to perform.
At the age of 70, Ed died of heart failure from complications of various ailments he already had.
In social media posts, Milmar Alilio Alala said Ed helped him erase his fear of facing a crowd, and encouraged him to persevere and finish his studies. RD Dimacucha said Borbon gave the people a renewed pride in being Batangueño. Bheng Mando said he helped numerous scholars and gave students like him great opportunities. Actor Rener Concepcion said Ed was a giant in his estimation. He always looked forward to his conversation and his storytelling. Ed, he said, was his inspiration in pursuing theater, no matter the odds.
Borbon's legacy is in his work, in the local culture that he worked so hard to restore, in his family members who loved and looked up to him, and in his former students whose lives he enriched by inspiration.
"Tito Ed has played many different roles in people's lives, and in all those roles he gave it his best and his all," said his niece Marvi.