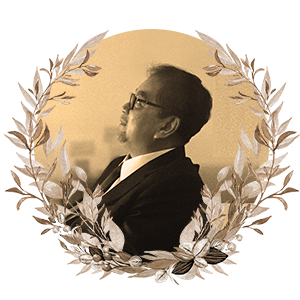 Former Secretary of Tourism; writer and creative professional, iconic figure in advertising and marketing.
July 14, 1955 – April 27, 2020
It's rare for a creative professional to attain the highest level of respect and admiration from the advertising industry. And yet, we find at that summit RAMON JIMENEZ, JR. (1955 – 2020) who became a legend in his profession. He is most revered for the tourism campaign, It's More Fun in the Philippines. The hugely-successful campaign was Jimenez's brainchild. "Mon J", as he was called, served as the country's Secretary of the Department of Tourism from 2011 to 2016, and spearheaded the award-winning tagline that still resonates in tourism campaigns for the country.
After obtaining a degree in Fine Arts majoring in Visual Communications from the University of the Philippines, he joined Ace Compton Advertising (later becoming Saatchi & Saatchi) as a copywriter, eventually becoming Vice President and Executive Creative Director.
In the late 1990s, he, together with his advertising executive wife Abby, formed a start-up boutique agency, Jimenez & Partners. After several mergers, the agency became known as Publicis Jimenez Basic. It would become one of the country's largest and most successful Filipino advertising agencies during his stint as Joint CEO with Abby. After retiring from Publicis Jimenez Basic, Mon J and Abby founded WOO (Win Over Obstacles), a marketing and media consultancy firm.
His multi-awarded agency work is credited with the rise of brands including Jollibee, Selecta Ice Cream, Globe Telecom, San Miguel Beer, Cebu Pacific, and Ivory Soap.
He was a Creative Guild Lifetime Achievement Awardee in 2006, and Chaired the Agency of the Year Awards in 2007. He was awarded the Asia Pacific Tambuli Effectiveness Advertiser of the Year Award in 2015, the Agora Honorary Award in 2015, and the 2017 Asia-Pacific Tambuli Lifetime Achievement Award.
He helped write and publish a private book on five generations of his family, entitled Generations: In Search of Family, which chronicled the Jimenez clan in the Philippines.
As DOT Secretary, he made tourism "the people's business," saying that "the Philippines is an obviously beautiful product and should be easy to sell like Chickenjoy. Believe in the beauty of your country. Sell it at every turn. Sell it on Facebook, on Twitter. Talk about your country because we deserve a visit from the world."
The aggressive social media helped the Philippines improve its ranking in the Travel and Tourism Competitiveness Index of the World Economic Forum, jumping from 94 in 2011 to 74 in 2015. It then received awards from WARC Asian Strategy Grand Prix and the Kidlat Awards Grand Prix.
Paying tribute to Jimenez, BBDO Chief Creative Officer David Guerrero notes: "It's hard to think of anyone who has done more to raise the profile, appreciation, and dare we say, love of creativity in this country than Mon Jimenez did."