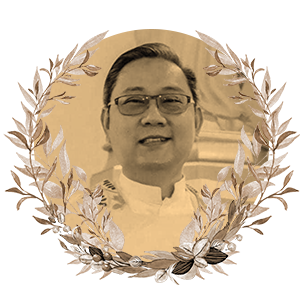 Architect who created iconic designs for churches, designed the papal chair for Pope Francis' 2015 visit to the Philippines
August 3, 1969 – July 9, 2020
Rev. Fr. ALEX O. BAUTISTA (1969 – 2020) was an architect and a Catholic priest who designed the liturgical furnishings, the sacristy, and the papal chair for Pope Francis' Mass at the Quirino Grandstand in 2015. His friend, Fr. Gerry Perez, told the UST Varsitarian: "Fr. Alex was gentle and humble in his ways, always paying close attention to the details of the architectural plans that he beautifully and expertly designed, thus, showing his deep love for liturgy and the Church."
Fr. Bautista served as executive secretary of the Catholic Bishops' Conference of the Philippines' Commission on Cultural Heritage, where he became chief architect and consultant.
He was also a consultant to many church projects in several dioceses and archdioceses in the Philippines and abroad, including the restoration of the interior of Tuguegarao's Cathedral, San Sebastian Minor Basilica and San Jose de Trozo Parish in Manila, Our Lady of Peñafrancia Minor Basilica in Naga, Our Lady of Piat in Cagayan, the sacristy of the Our Lady of Manaoag in Pangasinan, and Our Lady of Mediatrix of all Grace in Lipa City.
The Manila Cathedral shared in a post: "Father Alex Bautista was the man who designed the beautiful renovation of the Manila Cathedral sacristy. He would always say that the sacristy should be clean and dignified because it is the "ante cielo," the room where you prepare for heaven that is the Eucharist."
In the Diocese of Tarlac, he designed "iconic" churches such as the La Sagrada Familia Parish in Gerona town, where he served as Parish Priest and the Shrine of Saint Josemaría Excrivá of the Opus Dei. He served at the Commission for the Cultural Heritage of the Church in the same diocese and played a vital role in creating literature for the old churches in the province.
He started the Belenismo sa Tarlac in 2007, a yearly belen making contest, together with the provincial government, business executives from Tarlac Convention and Visitors Bureau, and the Tarlac Heritage Foundation.
Tarlac's provincial tourism office acclaimed his works: "The churches do not only serve as places of worship but as tourism destinations that have made Tarlac one of the best pilgrimage sites in the region.
Father Alex also taught at the University of Santo Tomas' College of Fine Arts and Design and College of Architecture, and humanities courses at Our Lady of Peace College Seminary in Tarlac.
After working as a licensed architect in Hong Kong for three years, he studied philosophy and theology at the University of Navarre in Pamplona, Spain.
The Diocese of Tarlac ordained him a priest in 2002. His vision for Gerona's parishioners was to be closer to God and have a place that they can go to strengthen their faith. He was a man of few words, but his heart was full of kindness, love, and generosity. They described him as a "dedicated and loving pastor to his flock." The Manila Cathedral's administrators put it well: "Thank you for your legacy to the Mother Church."