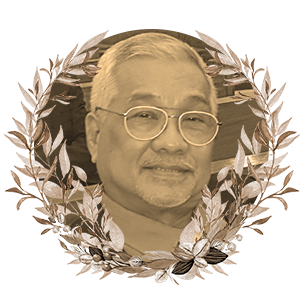 Ballet Dancer, Costume and Set Designer, and Artistic Director
June 25, 1951 – October 25, 2021
Rupert S. Acuña was a ballet dancer, costume and set designer, and artistic director of Manila's home of local drag, the O Bar.
Born in Manila, Acuña's parents were Emiliano Acuña and Alita de los Santos, who were also dancers. He was drawn to dancing since he was a child. Despite his father's initial objections to him dancing and coming in late to the field, Rupert joined the big stage and became a captivating presence both on and behind the stage. He shone whether as Don Jose to Vella Damian's Carmen or as the artistic director of famous drag bar O Bar.
Acuña trained as a ballet dancer under the tutelage of Vella Damian and Eric V. Cruz. Prior to Eric Cruz's discovery of him, Acuña was a volleyball player. He was also an interior design student at the University of the Philippines.
Acuña was 23 when he started training as a ballet dancer. He became a principal dancer under Cruz's Dance Concert Company after he joined Cruz's dance class for amateur dancers. Acuña's official debut at the Cultural Center of the Philippines (CCP) was in November 1974, where he danced the pas de deux in Cruz's Masquerade (Katchaturian).
He was an expressive dancer with passion and energy, reliable for making his partner comfortable during their performances. Acuña later became a permanent guest artist under Dance Theatre Philippines and danced with the likes of Irene Sabas and Mary Anne Santamaria. It was under this organization that he traveled to Britain, Hong Kong, and other countries as a performer.
Acuña also joined highly regarded ballet companies during his time as a principal dancer, including the Hariraya Ballet Company and the Ballet Federation of the Philippines. He also trained with William Morgan and guest teachers Jean Deroc, Tina Santos, Gary Wahl, and Mannie Rowe. Acuña gained experience of what ballet was like outside the CCP with these organizations, performing internationally with them.
Acuña later became the co-owner and artistic director of the home of Filipino drag, the O Bar. Following his retirement from ballet, he created a safe space for queer people. The O Bar was opened in 2005 at the corner of Orosa and Nakpil streets in Malate, Manila, and became known for its beautiful and entertaining drag performances.
When Acuña first opened the club, he did not expect it to become famous primarily for drag. Nonetheless, he was immensely proud of this, treating it as an achievement. With O Bar's success, Acuña had a full stage built for the drag queens to perform and focused on producing more shows.
The O Bar did not only provide entertainment and a safe space for the LGBT community, but also offered regular dance classes in ballet, jazz, and hip hop, as well as health insurance and employee benefits for their salaried employees.
Upon Acuña's passing, many people grieved and reminisced about their memories of him.
Steve Sidewalk wrote: "[Rupert] was so kind, welcoming, and generous to me and my friends when I came to guest DJ there. His dedication to his night club was unmatched by any other club owner I've met." He added that the drag shows were "treated like Broadway productions."
Ramon Parpana Papa, in an interview with Rank, said, "[Acuña's] legacy will always be about professionalizing drag and giving the stage for the divas to thrive."
Not only was he an accomplished dancer, but also a dear partner and friend to all. As O Bar performers Angel and Valeria told Rank, "'Yung legacy ni Boss Rupert, nasa sa amin na 'yon, e. Kami na lang ang magko-continue." O Bar remains proud and standing, welcoming everyone. Many have Rupert Acuña to thank for this safe space in all its exuberance.