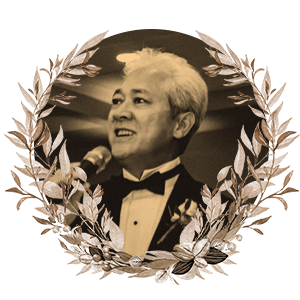 Multi-genre actor; TV producer and director; and entrepreneur
April 22, 1957 – August 23, 2020
ARIOSTO REYES, Jr. (April 22, 1957 – August 23, 2020) was an actor for theater, film and television. He was a versatile artist who pursued his passion for theater, TV, and film all his life: even when he stopped in order become an entrepreneur in the U.S., he eventually returned to the theatrical stage and even on TV for at least one show.
At the height of his stage and TV career, he had three weekly TV shows, was a house actor of CCP's theater ensemble* and later became one of the youngest Pinoy TV directors. He was also the executive producer of Anna Liza, which starred the late Julie Vega.
Reyes also found critical recognition in film. He was nominated as Best Supporting Actor for his marked roles in Dormitoryo! Buhay Estudyante in 1982; and his last film, Bayan Ko: Kapit sa Patalim in 1984, whose theme song he sang. Bayan Ko was the Philippine entry for Best Foreign Language Film in Cannes and the Oscars.
Reyes was also in Magsisi Man Ako in 1969; Wanted: Perfect Mother (with Snooky Serna and Gina Alajar) in 1970; Pag-ibig Ko'y Awitin Mo in 1977; and Mga Uod at Rosas in 1982.
He played opposite Vivian Foz in the pilot episode of Lovingly Yours, Helen in 1980, and interestingly, was again cast as her husband in an episode of Magpakailanman on August 2019, in what would turn out to be his last screen appearance. Of the experience, he said, "It gave me an opportunity to come back again to the industry that I love the most."
Reyes had his stage debut at the Ateneo Children's Theater. He portrayed the lead role of Matang Lawin in the long-running classical musical Sinta with Dulaang Sibol, the theater group in Ateneo high school. He eventually "graduated" into playing the lead in the movie version (this time, as Narding), with Catherine Melendrez as his leading lady; and even cut a long-playing album for the movie soundtrack.
Upon the advice of actress Boots Anson Roa, Reyes quit showbiz when he got married. He established businesses in the US like AMREY International, Inc., a children's clothing manufacturing and importing firm; AMREY Mortgage, Inc.; and two medical billing companies, VMEDS and Advantage Healthcare Synergy. He was also president of the Philippine-American Association of the Treasure Coast. He was into fishing, archery, golf and guitar-playing.
What made him happiest however, was when he returned to his first love in 2003: he performed to sold-out performances of The King and I at Lyric Theater in the U.S. with his entire family. In the last few years, he conceptualized and jointly established KATAPAT, a non-profit organization with fellow Ateneo alumni, to help Ateneo alumni and faculty in need.
Reyes was born on April 22, 1957 in Manila as Ariosto Bernardo Reyes, Jr. to Ariosto P. Reyes, Sr., and Carolina Bernardo Reyes. He was fondly called Nonong by family, and Ari by friends. He grew up in Quezon City, and attended Ateneo de Manila University from grade school to college. He had a B.A. in Communication.
He was married to Maria Ruiz de Luzuriaga; his children were Angela, Claudia, Beatrice; and Ariosto S. Reyes III (deceased). He passed away on August 23, 2020 in Port St. Lucie, Florida, in the U.S.