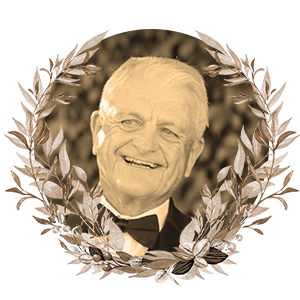 Longtime Trustee of Ballet Philippines, Arts Advocate, and Entrepreneur
March 1, 1941 – September 28, 2020
Richard Clark Upton, Dick to family and friends, was a trustee of Ballet Philippines (BP), American entrepreneur, and arts advocate whose passions were to empower people and bring Philippine culture to the world stage.
He was born in Marblehead, Massachusetts to Warren and Dorothy Upton. He attended Wilbraham & Monson Academy for preparatory school, and later on Tufts University, graduating in 1964.
After college, he worked with Chase Manhattan Bank and then in advertising in New York City before moving to the Philippines in 1970 to work for McCann Erickson as an accounts manager.
He found a longtime home in the country. An astute businessman, he embarked on an upscale business of objets d'art and antiques called The Galleon Shop, which he established with his then-wife, Ballet Philippines founder and National Artist for Dance Alice Reyes. They also did product development for American department stores Macy's and Bloomingdale's, repurposing native crafts from Northern Luzon and Palawan into functional and decorative pieces for the Western market.
In its heyday, The Galleon Shop had nine outlets, and it was the first store to offer the t'nalak from Lake Sebu in Southern Cotabato, and the first of its kind to showcase its products in the style of a gallery display.
Also in 1985, Upton established John Robert Powers International, a school for personal development with franchises throughout Asia, which he led until 2019. His mission with the school was to help unleash the potential of people through well-designed personality and professional development programs.
He was passionate about the arts and served as a longtime trustee of Ballet Philippines, the Cultural Center of the Philippines' resident dance company founded in 1969.
He was there in the formative years of BP, working as its first international tour director in 1971 and helping bring Philippine dance to the world. He held the position of Board Treasurer of BP until his passing.
He was a member of the Eastern Yacht Club in Marblehead, which he visited often, and was an active member of the Rotary Club of Makati.
From Alice Reyes, we have this testimonial of a rich life: "For over 50 years, Richard was a passionate and tireless advocate of the Philippine arts. His efforts over many decades helped to bring Philippine dance to a global stage. His tall frame and booming personality impacted so many in the artistic community and beyond… [He was] a remarkable and irreplaceable man."