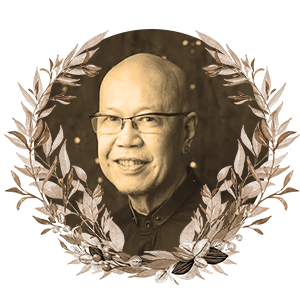 Writer, Actor, Singer, Songwriter
February 29, 1956 – December 17, 2020
Vicente Alfredo Ruiz Santos, Freddie to family and colleagues, was the writer of the famous song "Points of View" by Joey Albert and Pops Fernandez. He was also an actor, lounge singer, songwriter, events consultant, TV personality, producer, and director of theatre, stage concerts, television, and film.
Born in Cebu City, he studied at the Lourdes School and later at Sacred Heart School, both in Quezon City, and was awarded a Rotary Youth Exchange [Rotex] scholarship to Arvada West in Colorado, where he was trained by David Helm in drama and by Rex Nelson in music.
Back in Cebu City, he attended the University of Southern Philippines, and was mentored in voice by the baritone Aurelio Santos Estanislao, his uncle.
After working for two years in advertising, he moved to theatre work, and branched out as actor, coach, assistant director, and director.
He joined Repertory Philippines in 1976 as a bit player, and after five years there, he moved to SRO Philippines where the focus was on dinner theatre. Here he honed other skills, including playwriting, stage lighting, make-up, and choreography. He also joined Teatro Pilipino and Musical Theater Philippines.
Santos also wrote the plays 'First Name,' 'Joseph the Dreamer,' 'So David…,' 'Widows, Orphans, and Wildebeests,' 'Il Divino,' and 'Sabel: Love and Passion,' this last inspired by the "Sabel" series of National Artist Ben Cabrera.
He won the Aliw Award for Best Stage Director three times, and became the first person to win in both categories of stage musical [1987 and 2000] and concert [2008]. He was later elevated to the Hall of Fame, and served as director of its annual staging for several years.
In the early 1980s, he was part of the U.S. tour of the musical Walang Sugat, going through ten American cities and serving as technical director for venues like the San Francisco Opera House, the Chicago Civic Opera House, and the Avery Fisher Hall at the Lincoln Center, among others.
In the 1990s, he ventured into lounge performances, and his weekly comedy act at Tita Lola's Café Alvarado became popular and critically acclaimed. He later became a concert director, putting on more than 400 pop, rock-and-roll, and classical concerts, totaling over 1,500 performances, and in venues such as the Carnegie Hall and Manhattan Town Hall.
As a songwriter, his compositions include "Yakapin Mo Ako," "Points of View," "Could You Be Messiah," and "Two Words," Lea Salonga's chosen wedding song. A number of his songs have gone platinum. He was also a lyricist.
For television, he directed several musicals and specials. He would also go on to do film, in particular Sanso, a 10-part documentary on the life and works of the Spanish artist Juvenal Sanso.
In 2017, he was granted a star on the Eastwood City Walk of Fame in Quezon City, and in 2020, he was recipient of the Natatanging Buhay Award given by Philstage.
He mentored many young performers. Stage actor and producer Audie Gemora said Santos was most admired for pushing artistic boundaries: "What Freddie hated was the conventional way theater was done. He was always innovating and pushing theater to new realms. Decades ago, he was already egging us to try the digital platform because he said it would reach more audiences…
"[He] was extraordinarily multitalented. He could draw, design, write, act, sing, host, choreograph, and direct. He was exceptional at everything he did. And he did everything 100 percent. I wish Freddie had lived longer because there were masterpieces he had yet to gift us."