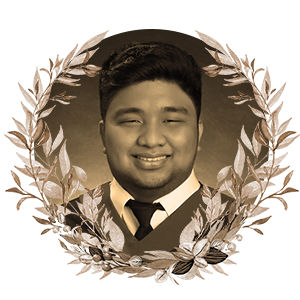 Web Developer and Cultural Worker
October 18, 1993 – March 31, 2021
Aldrin Garcia Bautista was a full stack web developer who graduated from the University of the Philippines-Los Baños (UPLB) with a degree in BS Computer Science. He created the Cultural Center of the Philippines' email service for artists.
During his years in the university, he was part of the Systemone Development Team, UPLB's online enrollment system. He was also part of university organizations such as Umalohokan Inc., Makiling Ultimate Club, and College of Arts and Sciences Student Council. While still studying, he began his career as a professional programmer, creating iOS, Android, Mac, Windows, and web applications.
Adin was an active member of the SwiftPH and the Philippine Android Developers communities, sharing his knowledge on iOS and Android development with other developers in the Philippines. He also enjoyed hackathons, both as a mentor and participant.
He also humbly served the Lord as an active member and 'Kuya' in his local ministry groups, the United Methodist Youth Fellowship and United Methodist Young Adult Fellowship.
As a professional, his clients and coworkers often referred to him as a 'magician,' since he could always make everything work. Just tell him what you want, and he could do it in a snap. He also led his teams and mentored new employees.
In 2020, he was hired by the Cultural Center of the Philippines (CCP) as a website developer. He worked on the CCP Collections website, CCP Visual Arts and Museum Division directory, and 13 Artists Award website.
He was a big boy with an equivalently big heart. He always put other peoples' needs before his. He took responsibility for anything given to him. He was someone who never gave up. He might have delayed some things, but he never gave up. He also thought that nothing was impossible. He could always do it, his way.
He gave his all to people he knew — time, resources, attention, heart, frank comments, and even his huggable self to everyone. He would fight for what he thought was better. A loud and annoyed voice during discussions was normal for him. You would know if he had issues with you because he would tell you frankly.
He made funny faces, cute gestures, and spoke baby talk, but he could also be serious and awaken your mind and heart to the issues around you.
Adin was very dependable and constant. He was always there when you needed him, and could be counted on to go the extra mile.