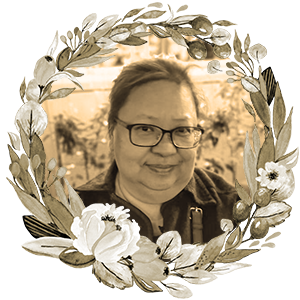 Journalist, editor, book author and K-Pop fan
1963 – 2020
GIANNA MANIEGO (1963-2020), was digital and lifestyle editor of Manila Standard, was also Manila Times editor and world editor of Philippine Star, Kerygma Magazine, and Savvy Magazine. She previously worked for Jingle Magazine and was a contributor to Business Mirror.
Gianna lived her life with passion and enthusiasm, a journalist who embraced the arts and culture beat full throttle. The articles she wrote were of varying topics, which were all things she loved – from travel to food, architecture and design, fashion and performing arts. She loved writing about the arts and culture not just of the Philippines but of other countries as well. This was borne out of her love for travelling, about which she always wrote beautifully.
Not surprisingly, she also embraced K-pop and became a devoted fan who shared news, features, videos and photos of these Korean celebrities on her Facebook and Twitter pages. She was especially fond of the group Seventeen, considered herself a Carat (what Seventeen fans are called) and attended and wrote about Seventeen's Manila concert in February this year, pre-pandemic lockdown; this made the Manila concert the last stop of the group's world tour.
She wrote in her Business Mirror article, "It was unexpected and oddly poetic that the world tour ended as it did, but the Manila crowd was so happy Seventeen managed to make the show and will remember things until the next Seventeen concert."
She edited the famous book series True Philippine Ghost Stories, published in 2002 by Psicom Publishing Inc., which had various authors and countless readers. She also wrote Sarap, Tikim, Lasap: All-Time Pinoy Favorites cookbooks, also published by Psicom Publishing.
Author, editor and journalist Joel Pablo Salud wrote about Gianna upon hearing of her death, saying, "Thank you, Gianna, for being there when no other editor took the risk of giving this young, cocky dangling modifier a break in the newspaper. Rest now, my good friend." Many other writers wrote similar tributes to her, grateful for her sincerity and kind heartedness in giving new writers the necessary break in newspaper and magazine writing, or publishing features stories from contributing writers.
A Journalism graduate from the University of the Philippines Diliman, Gianna passed away at the age of 57. She leaves behind her daughter Catriona.