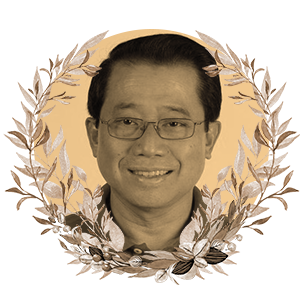 Television Host, Media Executive, Newspaper Columnist
January 20, 1946 – February 15, 2022
Ricardo Puno Jr., also known as "Dong," was a Filipino television host, media executive, newspaper columnist, and lawyer.
A son of former Minister of Justice Ricardo Puno and Priscilla Villanueva, Dong was born in Manila on January 20, 1946. He obtained his Bachelor of Arts and Bachelor of Laws degrees from the Ateneo de Manila University, and Master of Laws from the Harvard Law School, USA.
Puno became a household name in the mid-1980s when his talk show "Viewpoint" aired on GMA. A fluent English speaker, he was fresh from his stint as corporate secretary of Philippine Airlines when his TV program launched in 1984.
"Viewpoint" ran for ten years and won many awards before Puno transferred to ABS-CBN, this time hosting the prime talk show "Dong Puno Live!" in Filipino.
While in ABS-CBN, Puno also worked as vice president for overhead news operations and senior vice president for news and current affairs from October 1994 to April 2000.
With a career in the media industry spanning three decades, Puno hosted various news and public affairs shows, including "Business Today," "Dong Puno Tonight," "Insider," "Kalibre 41," and "Dong Puno De Kalibre."
On top of his broadcasting career, Puno also wrote articles for his column "My Viewpoint" which appeared on The Philippine Star and The Manila Times.
He was also the former president of the Manila Times College and the Guagua National Colleges in Pampanga.
Puno served as the press secretary of former President Joseph Estrada, before running for senator in the 2001 elections and losing. He also later vied for a congressional seat of Muntinlupa, but was unsuccessful.
In a statement, ABS-CBN paid tribute to Puno, calling him "sharp and eloquent."
"Fondly called 'RVP' in the newsroom, he was a mentor who brought out the best in our journalists, and a leader who inspired the news team to produce relevant and relatable programs while remaining focused and passionate about our service to the Filipino people," the network said.
As a lawyer, he was the senior partner of the Puno and Puno Law Offices, served as the vice president-general counsel and corporate secretary of Philippine Airlines, and was a member of the Philippine Panel for International Air Negotiations.
Puno died from complications of Parkinson's disease. He was 76. Puno is survived by his wife Christy, sons Ricky and Donnie, and 11 siblings, including former Department of Interior and Local Government Secretary Roberto "Robbie" Puno.