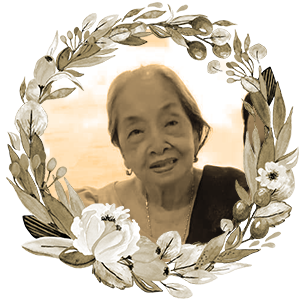 Dramatist, UP Film Center Founding Director, and The High Priestess of Philippine Poetry
April 24, 1923 – August 14, 2021
Virginia Reyes Moreno, also known as 'Virgie Moreno,' 'Piling Arkanghel,' and 'Aling Barang,' was a poet and playwright. Known as "The High Priestess'' or "Empress Dowager" of Philippine Poetry, titles conferred by no less than National Artist for Literature Jose Garcia Villa, she was a founding member of The Ravens, a literary barkada from the University of the Philippines (UP) Writers Club which was formed after the Japanese occupation. The Ravens would continue to write and publish as individuals and as a group through the years.
The only female Raven, Virginia Moreno was born in a bahay na bato on Juan Luna Street, Gagalangin, Tondo, Manila. She was the daughter of ship captain Jose Moreno Sr. and rice trader Felicidad Reyes. Fashion designer Jose "Pitoy" Moreno was her younger brother.
She studied at Torres High School and received her Bachelor of Philosophy and Master of Arts degrees in English literature at the UP. She was a member of the UP Writers Club and worked on the staff of the Literary Apprentice. At 22, she went to the United States of America as a scholar, her first trip abroad. She received a certificate in creative writing from the University of Kansas, and a certificate in French civilization from the Sorbonne, University of Paris, France. She was a writer-in-residence at the University of Iowa International Writers Program from 1973-1974.
She taught literature, humanities, and cinema for many years at UP. She became the founding director of the UP Film Center in 1976 and served as its head until her retirement in 2003. It was through her pioneering efforts that cinematic arts as a discipline gained an enviable place in the Philippine academe, according to the Film Center, now known as the UP Film Institute. She also served as chair of the UP President's Committee on Culture and the Arts.
Outside the academe, she chaired the UNESCO Culture Committee of the Philippines. She also managed Los Indios Bravos Café in Malate, Manila, which was a well-known meeting place for artists and writers.
Many of Moreno's poems appeared in the Literary Apprentice. Her collection Batik Maker and Other Poems came out in 1972, which were the same poems that won first prize in the Carlos Palanca Memorial Award for Literature. There were only 13 handcrafted copies of the Batik Maker and Other Poems made for its 1975 launching at the Cultural Center of the Philippines. Writer, bookmaker, and fellow Raven Hilario S. Francia meticulously crafted and stitched each copy of the book.
Her poems were translated into Japanese and Bahasa Indonesia and published in international magazines. They were also included in textbooks and anthologies such as The Ravens (1980); A Native Clearing (1993); and The Ravens 2: An Anthology (1996). She also crafted essays and short stories in English.
Moreno wrote several plays, including Mariang Makiling: Glass Altars, written and published in the Literary Apprentice in 1952. She wrote Giting Kayumanggi (Brown Nobility), a historical pageant performed by the Bayanihan Philippine Dance Company for the Independence Day 1964 celebrations at the Lincoln Center in New York.
She also penned Straw Patriot, written and published as a playbook in 1967. It was translated into Filipino by Wilfredo Pascua Sanchez as Bayaning Huwad. It was the first play staged by the Philippine Educational Theater Association at its new theater in Fort Santiago, Manila, on 29-30 December 1967. She then wrote Indio Spoliarium in 1971, which won honorable mention in the CCP Literary Contest in the same year.
Aling Barang received fellowships and observation grants from the Rockefeller Foundation; the Breadloaf Writers Workshop and a theater observation tour, 1954; the French Centre of Drama, 1972-1973; the British Arts Council in 1972; and the British Film Institute, the French Republic, the Yugoslavian Film and Drama Institute, and the Swedish Film Institute, all in 1978.
Teresita Herbosa, a former student, said, "I saw her flag down a UP Ikot, get into the front seat beside the driver, in all her glory, wearing a black and white mini-dress, in white high heels, with thick black sunglasses ala Breakfast at Tiffany's and holding a black and white umbrella. She symbolized the art scene at UP Diliman in the '70s."
Virginia Moreno received the Chevalier dans l'Ordre des Palmes Academiques from the French Republic in 1979. It was a national honor bestowed on academics for their valuable contributions to education and science. She also won the Don Pablo Roman Prize for "The God Director" in 1981, the South East Asian Writers or S.E.A. Write Award in 1984, and the Patnubay ng Sining at Kalinangan award from the City of Manila in 1991. She received the Gawad Pambansang Alagad ni Balagtas for poetry in English from the Unyon ng mga Manunulat sa Pilipinas in 1993.
Moreno's most famous play, The Onyx Wolf, which she wrote for six days and six nights with Jorge Arago typing as she dictated, won third prize at the CCP Historical Playwriting Contest in 1970. It was published as a playbook in 1971. The Onyx Wolf was adapted into dance by Alice Reyes as Itim Asu and became one of the inaugural presentations at the CCP's Tanghalang Aurelio V. Tolentino in 1971. It was directed by Rolando Tinio, who later became National Artist for Literature and Theater.
The written work received an award from the Southeast Asian Theater Organization International Literary Prize in 1972. It was later listed as the lone Philippine entry in Avant-Garde Staging around the World (1974). Also known as La Loba Negra, it was adapted again for stage in 1984 and 1990. A new version entitled Itim Asu: 1719-2009 was presented by dancer Myra Beltran: it was a multi-media concert and was shown from 2009-2012 at the Dance Forum Studio, West Avenue, Quezon City; RCBC Theater, Makati; and UP Diliman, Quezon City.
Beltran shared on her Facebook timeline: "She wrote, 'the race needs mute women for the long wail.' It is not easy to sustain that. One feels alone, burdened – the weight of memory. By her example though, I learned that this feeling, this inner stance, can be parked on the back burner, so to speak, and one can put one's feet up, laugh out loud, enjoy the wine. But always, to pay attention, to be attentive when Itim Asu reveals herself again. Because she will, Tita Virgie taught me, at certain moments of history.
"That is why in her play within a play, she was able to string a timeline from Rajah Sulaiman, Fr. Jose Burgos, Jose Rizal, with Huseng Batute, playwright, the one who would narrate it, the bearer of memory. As I discerned, by the witness of her play, the timeline extended on through to Ninoy Aquino. And at the time of the premiere of my version of Itim Asu, Cory Aquino's death was still fresh, and her son had just announced his candidacy – as if the fleshing of Itim Asu at that moment was fulfilled."
Another version of Itim Asu was scheduled for a run starting February 2020 as part of Ballet Philippines' 50th season at the CCP, with music by National Artist Antonino Buenaventura and choreography by Reyes, now a National Artist for Dance. Aling Barang was able to watch the special one-off presentation before the rest of the performance dates were canceled due to the national health crisis.
She passed away in her home in Malate, Manila, at 98.
She lived in the same house that became a shelter for rebels, revolutionaries, and insurrectionists during Martial Law. Writer Babeth Lolarga, a former student of Aling Barang, said, "It was a safehouse below the radar of the military. After all, her younger brother, Pitoy, dressed high society, including First Ladies."
The Malate home she called Café Orfeo continued to welcome writers and artists, such as the regulars of the Los Indios Bravos and those that looked up to her as a mentor and friend. Virginia Moreno would organize lunch and dinner parties, intimate poetry readings, and music events, complete with opera and singing activities. She continued to grace film festivals, exhibits, and book launches with her presence. She frequented events as the guest of honor. She would share stories with friends and strangers about her experiences during the Japanese occupation, her travels abroad, her relations, and the local arts and culture scene, then and now. It was always with lively rhetoric, humor, and wit.
Virginia Moreno was the president of the J. Moreno Foundation, a charitable organization established by her brother Pitoy that provides grants for the UP Manila College of Medicine interns, and financial support for the Philippine General Hospital Children's Ward and the UP Diliman College of Fine Arts.
The spirit of compassion runs in the family, for she was well known for helping those in need. Her bionote in the book Ravens in Love was surely written by another writer for it said: "Virgie," added Villa, "has always supported the arts and fellow artists. I myself have been a recipient of her support, morally and substantially." And Villa mentioned some of his hospitalization bills -redeemed personally by Virgie Moreno -while he was confined in a New Jersey hospital under the care of his Filipino doctor friend Dr. Eugene Pulmano. The nephew of the late expatriate Filipino artist in France was also a recipient of her support when he had to go to Paris to attend his dying aunt in a Paris hospital in 1994.