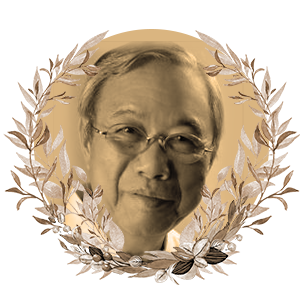 Lay Theologian and Author
November 14, 1946 — April 15, 2021
Jose Mirasol de Mesa, 'Joe' or 'Ka Jo' to friends and associates, was a lay theologian and author engaged in the rethinking of Christianity in terms of indigenous categories, and producing scholarship intended to guide Christians to consider the significance of Jesus Christ from Asian perspectives.
He also developed the concept of "salvation" in a lowland Filipino context, and worked out a Filipino spirituality through a Christian believer's way of life using the key value of "kagandahang-loob" or winsome and gracious goodness.
He was born in Manila on November 14, 1946, and after finishing his bachelor's degree in philosophy, took up basic theological studies in Manila. He obtained his M.A. and Ph.D. in Religious Studies, specializing in systematic theology, from the Katholieke Universiteit Leuven (KU Leuven) in Belgium in 1978. He also pursued post-doctoral studies at St. Paul University in Ottawa, Canada.
His main interest was in the field of systematic theology, particularly in the relationship between human conditions and situations and religion (mainly Christianity) as well as the cultural aspects of religion in the Filipino setting. He lectured widely on this subject in the Philippines and abroad. He was a professor of applied systematic theology at De La Salle University, where he was also a member of the Society of Fellows.
He also taught at East Asian Pastoral Institute and the Inter-Congregational Theological Center in Quezon City, the Institute of Formation and Religious Studies in Pasig, and was several times Visiting Louis J. Luzbetak Professor at the Catholic Theological Union in Chicago.
He was also a member of the international advisory board of the journal Louvain Theological and Pastoral Monographs of KU Leuven, and of the Concilium Advisory Board for Liturgy and Sacraments based in Nijmegen, Holland.
He wrote at least 11 books, among them And God Said, "Bahala Na!": The Theme of Providence in the Lowland Filipino Context (1979), Mga Aral sa Daan: Dulog at Paraang Kultural sa Kristolohiya (2004, winner of the National Book Award for Theology and Religion), and Jose M. De Mesa: A Theological Reader (2016, a finalist for the National Book Award for Best Book in Social Sciences).
His various publications, consultations, and lectures on Philippine inculturation earned him the Gawad Nishigaki Pagkilala in 1991. The Gawad Nishigaki Pagkilala is a national award given by the Commission on the Development of Languages of the Philippine government to Filipino citizens who have contributed significantly to the enrichment of the Filipino language. His award was the first given to an individual working in the field of theology.
He was also a member of the governing board of the National Book Development Board.
In their remembrance of Dr. De Mesa, the Carmelite Brothers and Sisters of the Philippines noted his dedication to his scholarship: "As a Filipino theologian, Ka Jo dedicated himself in guiding his students to encounter God as the encompassing loving kindness, 'Ang Diyos na Kagandahang-loob,' who draws all people and the rest of creation to Himself. He labored in allowing us to see and reach the Holy Triune God in our own context, culture, and language as Filipinos."