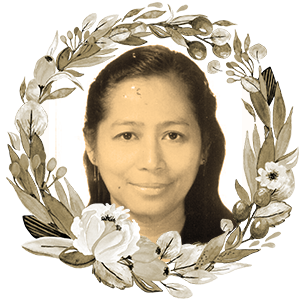 Beloved artist in theater and film; production manager and film producer
1955 – 2020
FLOR SALANGA (full name Flordeliz Salanga, 1955 – 2020) was a well-loved actress, playwright, theater practitioner, author, casting director, production manager, and film producer. Whatever hat she wore, she made an impact on fellow artists and members of the audience.
Beyond acting, however, Salanga is remembered by her passionate support for the arts. "Flor…served the artistic community very well," writes Nanding Josef. "She…helped and guided and supported actors, directors. She was a hardworking artist, educator, production manager, talent coordinator."
Flor Salanga contributed much to the Philippine artistic community, particularly the independent film industry. She was a favorite among filmmakers, appearing in films such as Batad: Sa Paang Palay (2006), Jay (2008), Sanglaan (2009), Vox Populi (2010), Kamera Obscura (2012), Bad Romance (2013), Hamog (2015), Tuos (2016), Hiblang Abo (2016), and Ang Pamilyang Hindi Lumuluha (2017).
For the film Jay, Salanga won as Best Supporting Actress at the Golden Screen Awards and was nominated for the same role at the 32nd Gawad Urian Awards. She was also a cast member in other award-winning films: Himpapawid (2009), Sapi (2013), Kid Kulafu (2015), and Whistleblower (2016).
In 2016, Salanga was one of 91 writers nationwide whose pieces were published in Ani 39, the official literary journal of the Cultural Center of the Philippines (CCP). This was not the only collaboration Salanga had with CCP. To celebrate Women's Month in March 2020, CCP (in cooperation with Women Playwrights International—Philippines) put up the three-day Festival of Plays by Women. On the first day of the festival, Ang Ambisyosong Langaw (The Ambitious Fly)—a play Salanga wrote with J. Olano—was performed by the Pasay North National High School, under the direction of Arnold Felipe.
Salanga took her undergraduate studies at Far Eastern University. Decades later on June 2019 (March 2020?), in the midst of her work as an actor and casting director, she graduated from the University of the Philippines Diliman with a master's degree in Theater Arts. For her thesis, which she presumably started in 2010, she documented the career path of fellow actor Fernando "Nanding" Josef, the artistic director of Tanghalang Pilipino.
Butch Francisco, one of the judges for the 32nd Gawad Urian, writes of Salanga's acting brilliance. "Flor's performance as the mother of a gay schoolteacher found dead in his rented apartment is flawless. It is a difficult role, but she rises to the challenge…she manages to interpret every angle of it realistically…I still feel her performance in Jay is Urian worthy."
Salanga was a quiet force in the arts, choosing to let her work, not her status as an actor, speak for itself. The void she left in the Philippine artistic community is profound.