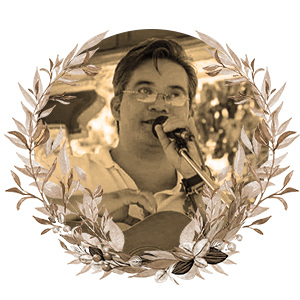 Musician, Visual Artist, Writer, Public Servant
October 17, 1966 – May 2, 2021
John S. Heredia's passion for music and visual arts helped build the cultural movement in Iloilo in the late 1980s. He was recognized as a key figure in the development and popularization of Ilonggo music throughout the 1990s, regarded as the golden decade of Ilonggo culture and music. He also composed rock opera musicals, which were presented at several educational institutions in Iloilo.
Born in Iloilo, John was a celebrated musician, painter, journalist, playwright, cultural advocate, and public servant in Western Visayas.
Because of his love for culture and the arts, John served as the secretary-general of a cultural group, Artista kag Manunulat nga Makibanwahanon (AMBON)-Panay. His advocacy was manifested through music and artwork. He gave voice and color to societal issues concerning human rights, indigenous people, and the environment through his paintings and the lyrics and melodies of his songs.
John and his wife, lawyer Criselda Azarcon-Heredia, held several visual art exhibits. Among them was "Life & Chaos," which was staged in 2019, and a portion of its proceeds was donated to a charity for sick children and a dog foundation supported by the Kiwanis Club of Kapis Rockstars, Inc.
In the late 2000s, he became a member of the media by hosting and producing a local public affairs program, "Abri-Aga" on Alto Cable TV in Capiz. He was also a contributor to Panay News, a regional newspaper in Western Visayas.
John was also the first and longest-sitting chairman of the National Union of Journalists of the Philippines (NUJP)'s Capiz chapter, and was also a former member of its national board of directors.
John performed one of his popular songs, "Aninipay" (the old name of Panay) at "Baganihan, an Online Musical Tribute to Frontliners" produced by the Provincial Government of Capiz last September 2020.
In addition to his work in culture and the arts, he was the municipal administrator of Pilar, Capiz. He was gunned down in Roxas City by unknown assailants riding a motorcycle.
John will be remembered for his significant contributions to local culture, the arts, and public service. His tagline on his television program was "Para sa kawsa sang masa" (For the cause of the masses), summing up the purpose of his endeavors.