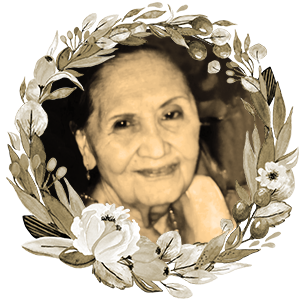 Gawad CCP Para sa Sining Awardee, Pioneer of Philippine Modern Dance, Teacher, Choreographer
November 7, 1923 – April 24, 2021
A recipient of the 1994 Gawad CCP Para sa Sining (Sayaw), Rosalia Ramos Merino Santos was a dancer, teacher, and choreographer. CCP described her as "one of the pioneers in the development and promotion of modern dance in the country."
She was born in Manila to Gonzalo Merino and Enriquita Ramos. She earned her bachelor of science in education, major in physical education from the Philippine Women's University (PWU) in 1949. She was a Fulbright scholar in 1950 at the University of Wisconsin where she earned her master's degree in physical education, major in dance, in 1952.
She married lawyer Ruben F. Santos and they settled in Quezon City, where she opened her own ballet studio.
Merino Santos' studies and career encompass the range of Philippine dance. She studied ballet with Luva Adameit, Ricardo Cassell, and Joseph Stemberski; modern dance with Trudl Dubsky-Zipper; Spanish dance with Conchita Sotelo; and folk dance with Francisca Reyes-Aquino, of whose Filipiniana Song and Dance Troupe she was a member.
Later, she specialized in modern dance at the University of Wisconsin under Margaret H. Doubler, Louise Klopeer, and Louis Horst, pedagogical giants in dance. She was also exposed to many schools and styles of modern dance: the Limon, the Holm, the Graham, and the Weidman schools, all in America, and the Wigman- Kreutzberg school in Switzerland.
Merino Santos taught ballet, modern dance, and folk dance at PWU, St. Paul College, University of the East, Far Eastern University (FEU), Centro Escolar University, National Teachers College of Physical Education, the Young Men's Christian Association in Madison, Wisconsin, and privately. In 1958, she founded the Far Eastern Experimental Modern Dance Group in FEU which performed modern dance pieces utilizing athletic activities such as basketball.
Among her notable works are What is Dance? (1958), a lecture-demonstration on modern dance; Fan-fare (1958), on pure movement dynamics; Feminine Gender (1958); Portrait of the Filipino as Seen through Philippine Folk Songs, Dance, and Music (1959), a presentation of the FEU Folk Dance Group in Europe; Opus 17 to Brahms (1959); Ugaling Filipino (1963), depicting the historical evolution of Filipino customs and traditions in dance; "Hunt" and "Storm" in Sarimanok (1968), dance drama; one of the four dances in Dularawan: Gintong Salakot (1969); and Halina't Maglaro (1971), for Ballet Philippines.
She is most noted for Of Cocks and Kings (1958), based on a story by Alejandro Roces (who later became National Artist for Literature), and cited by critic Morli Dharam as a "contribution from us to the world's treasury of dance dramas." She also incorporated jazz in cheer dancing and choreographed aquaballets.
In an interview with writer Alma Anonas Carpio, Merino Santos shared that she created the battle scenes of the "Dance of Tyrrany" and the "Exchange of Panay" segment of the play "Dularawan: Ang Salakot na Ginto," the inaugural performance at the opening of the CCP to the public in 1969. "Dularawan" was directed by Rolando Tinio, and produced by Lamberto Avellana, who later becamed National Artists for Literature and Theater and Film respectively. The dance performances of the play were divided among choreographers of two dance genres: Anita Kane and Inday Gaston Manosa for ballet, and Merino Santos for modern dance. She had been quoted in news reports immediately following the CCP opening as saying that the collaboration between modern dance, folk dance and ballet for the inaugural performance could "very well mark the beginning of integrated efforts towards the formation of a national dance company in the country."
In 1971, when Alice Reyes was the artistic director of the Alice Reyes and Modern Dance Company—now known as Ballet Philippines, she asked Merino Santos to create a Filipino-themed choreography for another CCP production. Thus "Halina't Maglaro" choreography was born. It was based on the traditional games Filipino children play.
In 1978, during the Third National Ballet Festival of the Ballet Federation of the Philippines, she was awarded by Malacañan for her contributions as teacher and choreographer of modern dance, and as director of the FEU Modern Experimental Dance Troupe.
Merino Santos received the Patnubay ng Sining at Kalinangan Award from the City of Manila in 1981. In 1994, she received the Gawad CCP Para sa Sining (Sayaw) "for enriching dance through her pioneering efforts in experimental and modern dance techniques incorporating Filipino customs and traditions, and for her dedication in promoting appreciation of dance in the country."
Merino Santos passed away on April 24, 2021 at the age of 98.
"Dance as an art form is an expression of an individual, or a country, or a group, ideal, feeling, values. There you can see their character and how far they have developed in their culture and science. It all comes out in dance," Merino Santos said in an interview for CCP. "If I went into choreography, it was because there was something I wanted to share."