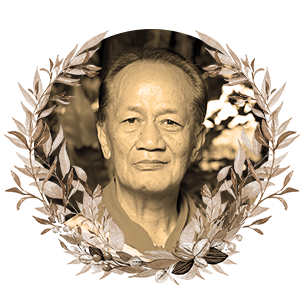 Dance artist and peerless proponent of Filipino folk dance; beloved mentor
1945 – 2020
EUGENE C. TICZON (also known as Kuya Eugene, 1945-2020) was the beloved creative and administrative director of the multi-awarded Philippine Barangay Folk Dance Troupe (PB). He spent a lifetime nurturing the country's folk dance expressions and traditions and worked tirelessly to bring this aspect of Philippine culture to as broad an audience as possible—from grassroots community performances to the halls of the Cultural Center of the Philippines.
Established in 1946 with the objective of enriching its members' lives through dance, PB is the longest running folk dance group in the country. It has earned numerous accolades nationally and internationally. After taking over the reins in the early 1990s from PB's founder, the late Dr. Paz-Cielo A. Belmonte, Ticzon guided PB's dancers through numerous national performances and inter-continental tours.
For three decades until his death, Eugenio C. Ticzon — or "Kuya Eugene" as how his students referred to him — led PB with passion, devotion, and inspiration. This did not go unnoticed. In 1988, the Metrobank Foundation awarded Ticzon the Metrobank Foundation Outstanding Filipinos Award for Teachers. The foundation annually holds these awards to recognize exemplary Filipino teachers, soldiers, and police officers.
To mark their 75th anniversary in 2016, PB, under Ticzon's tutelage, performed a gala show at the CCP Main Theater Tanghalang Nicanor Abelardo. Entitled Dangal at Yaman ng Lahing Baranggay, the performance celebrated "seven decades of excellence in folk dance tradition." Two years later, PB was back at CCP to take part in Pasinaya 2018.
Ticzon led PB through other local performances, including Pagdiriwang – Sa Pasko ng Pagkabuhay in 2016 at the Rizal Park. In the same year, Ticzon helped put together PB's performance , Yamang Balangay, Lahing Baranggay, at the Paco Catholic School.
"Kuya Eugene was at the helm of the Philippine Baranggay Folk Dance Troupe over the past three decades, dedicating his life to mentoring, teaching and supporting the members of the troupe, orchestrating the daily operations and all of our shows," writes the PB creative team on PB's Facebook page to celebrate Ticzon's life.